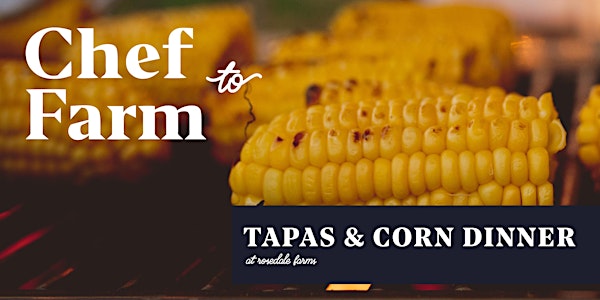 Max Chef to Farm Dinner "MAIZE: Tapas & Corn"
When and where
Location
Rosedale Farms & Vineyards 25 East Weatogue Street Simsbury, CT 06070
Description
Celebrating 12 years of MAX CHEF TO FARM!
LOCAL | SUSTAINABLE | CONNECTICUT GROWN
We start with the Farmers. They tell us what is at peak perfection each day and we build our menus around that day's harvest. Our Chef to Farm dinner series is an opportunity for our guests to enjoy the freshest foods and produce in the sublime beauty of our celebrated farms.
Your evening begins with a reception then you'll head out for a tour of the farm to see the fields and learn about the farm's history, operations, and products. Your tour concludes in the tented area where tables dressed in linen and candlelight offer a view of the al fresco kitchen. Each dinner is cooked from scratch and showcases that day's best produce. The ingredients are sourced daily from local farmers, ranchers, and fishermen.
Our menus vary and are dependent on the day's harvest and the inspiration of the Chef. Prepare yourself for an incredible dining experience with the most local, fresh and flavorful foods available.
On our Connecticut Farms, July means corn! Join us on July 12th at Rosedale Farms & Vineyards as Chef Hunter Morton Culinary Director for the Max Restaurant Group, translates the summer's most beloved harvest into a feast inspired by the tastes of Spain and America. Chef Morton, who has cooked from coast to coast, will draw inspiration from both the cornfield and beyond. Enjoy a multitude of small plates as we pay homage to the golden goddess of the season. Live Music TBD.
Seasonal menu and details to follow as we get closer to the date and are able to select from what the season has to offer.
Total ticket price is $109, inclusive. This covers your dinner, hors d'oeuvres and reception, multi-course meal with wines/beer, farm tour and live music by Ray Morant. By purchasing this ticket, you are also making a donation to the CT Farmland Trust.
All dietary needs must be communicated upon purchase. If you surprise us with a food restriction upon your arrival, we will do our best to accommodate you but we may not have the resources available.
Menu by Chef Hunter Morton
Reception
Smoked Chicken Taco, Corn Salsa
Cornmeal Fried Oyster Slider- Remoulade
Corncake – Shrimp, Charred Corn
Corndogs- Beer Mustard
Forager Cocktail 1902 - Bourbon Smash featuring Bellis Bourbon
Tapas
1
Lobster & Corn Fritter
Chowder Sauce
2
Mexican Street Corn
Cojita, Lime Crema, Cilantro, Smoked Paprika
3
Cornbread Salad
Charred Corn, Peppers, Lettuce, Beans, Bacon, Tomatoes, Cheese, Herb Dressing
4
Chilled Corn Soup
Pickled Stonington Red Shrimp, Popcorn Shoots, Corn Nuts
5
Broad Brook 'Corned Beef Brisket" Reuben
Cucumber Relish, Rye Crumble, Kohlrabi Kraut, Pickled Mustard Seed
6
Mojo Pork Enchiladas Rojas
Queso Fresca, Pickled Onions, Corn Salsa
D
Blueberry Cornmeal Cake
menu subject to change

QUESTIONS AND THE FINE PRINT
If you have questions about this event, please call Max Catering & Events at 860.566.8366.
If you would like to purchase using Max Vantage points, please contact Max Customer Service at 860.566.8360.
This is a ticketless event - all ticket sales are through Eventbrite.
Cancellation/Refund Policy
For Max Chef to Farm Festivals - Eventbrite fees are included in the total upon check-out. Tickets are refundable up to one day prior to the event, and this can be done via Eventbrite. Within 1 day of the event, refunds will be issued in the form of a Max Restaurant Group Gift Card for future use at any MRG location. Please contact Max Customer Service.
For Max Chef to Farm Dinners - all taxes and fees are included in the ticket price. Ticket purchases can be refunded up to 48 hours prior to the event (6:30pm July 10th). Within 48 hours of the event, refunds will be issued in the form of a Max Restaurant Group Gift Card for future use at any MRG location.
In the event of inclement weather and the event has to be post-poned, the event will be rescheduled and all ticket purchases will be honored for the new date. MRG reserves the right to cancel or host the event, and final decisions on all refunds. We apologize, but Eventbrite fees cannot be refunded for cancellations within 24 hours of festival events, or 48 hours of dinner events.