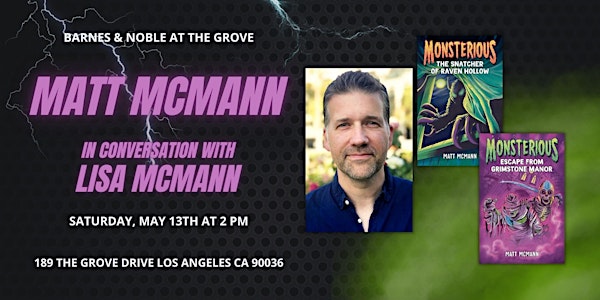 Matt McMann for MONSTERIOUS in conversation with Lisa McMann
Matt McMann discusses MONSTERIOUS with Lisa McMann at B&N The Grove on Saturday, May 13th at 2 PM PT!
By Barnes & Noble The Grove
Date and time
Starts on Saturday, May 13 · 2pm PDT
Location
Barnes & Noble The Grove 189 The Grove Drive Los Angeles, CA 90036
Refund Policy
Refunds up to 1 day before event
About this event
**PLEASE BE AWARE THAT THESE GUIDELINES ARE SUBJECT TO CHANGE DUE TO CHANGING COVID-19 REQUIREMENTS**
Join Barnes & Noble - The Grove at Farmers Market on May 13, 2023, as we welcome professional musician and author Matt McMann to the store to discuss MONSTERIOUS, a new middle grade series of terrifying tales that combine monsters + mysteries, perfect for fans of Goosebumps
Matt will be in conversation with Lisa McMann, the New York Times and USA Today bestselling author of dozens of books, including The Unwanteds series, the Wake trilogy, and her most recent novel, The Invisible Spy, the second installment in The Forgotten Five series.
***Mask coverings are highly recommended to attend this event.***
To make this event safe and enjoyable for all attendees, please read the below guidelines ahead of buying a ticket, so you know what to expect on the day. To avoid disappointment, we must stress that there will be no access to the event for non-ticketholders.
Barnes & Noble reserves the right to make new rules and orders in its sole discretion with regard to COVID-19 at any time and any person not abiding by the Barnes & Noble directives will be refused entry or directed to leave the premises.
TICKET INFORMATION
**A ticket includes:
Admission to the event space for the reading and signing, and photo-op with Matt McMann and Lisa McMann for ONE ADULT and ONE CHILD under the age of 12.
For Seated Tickets: Limited quantity is available and will be provided on a first-come, first-served basis. Purchase of a ticket guarantees entrance to the event for the discussion and signing. However, this ticket may not necessarily guarantee a seat at the event, as later arrivals may be placed in a line behind the seated audience.
For Standing Room-Only Tickets: Limited quantity is available and will be provided on a first-come, first-served basis. Purchase of a ticket guarantees entrance to the event for the discussion and signing. Ticket holders will be granted a standing view from behind the seated audience -- some views may be more limited/obstructed than others.
Ticket holders will be admitted into the event beginning at 1:00 PM on the day of the event. Please have a copy of your ticket available (either printed out or on your phone) for check-in.
GUIDELINES
This is a discussion, signing, and photo-op event. Photos will be taken by a Barnes & Noble Bookseller on the customer's camera/phone.
Due to COVID-19, masks are highly recommended to attend this event.
No large bags will be permitted into the event.
In order to attend this event, ticket holders should:

Have not had any contact in the last 14 days with a confirmed COVID-19 patient.
Not be subject to a quarantine order.
Not travel in the past 14 days to any state or country that California has designated as an area requiring isolation upon returning to the state.
At the time of the event, have not experienced in the last 72 hours any body temperature above 100 degrees Fahrenheit or any new symptoms associated with COVID-19. People with COVID-19 have had a wide range of symptoms reported – ranging from mild symptoms to severe illness. Symptoms may appear 2-14 days after exposure to the virus. People with these symptoms may have COVID-19: fever or chills; cough; shortness of breath or difficulty breathing; fatigue; muscle or body aches; headache; new loss of taste or smell; sore throat; congestion or runny nose; nausea or vomiting; and/or diarrhea.
Barnes & Noble may cancel this event at any time with or without notice to the ticket holders.
ADDITIONAL GUIDELINES
Some outside queuing may be required, so please do come dressed appropriately for all weather.
The exact time at which the event ends will be determined on the day.
To avoid disappointment, we strongly advise you to arrive on time for the event. Late arrivals may not have the opportunity to enter the event space.
Due to health and safety and space limitations, those without a ticket will not be permitted to join the queue.
All event guidelines are subject to change.
If you have any additional questions, you can call the store directly at 323-525-0270.
Please note that Eventbrite is the only authorized dealer for this event. Each person must have a ticket to enter.
REFUNDS:
Attendees can receive refunds up to 1 day before your event start date.
If you are unable to attend the event, Barnes & Noble - The Grove will hold your book for seven days after the event. Please contact the store to arrange your pickup.
Should this event be canceled due to changing COVID-19 concerns, all customers will be refunded their ticket price to the original method of payment per Eventbrite's refund policy.
Event guidelines are subject to change.
"Spine-chilling and creepy!" —Max Brallier, #1 New York Times bestselling author of The Last Kids on Earth
In a mansion on a hill,lived a man no one could kill.Raised the dead with magic darkto rule the world and make his mark.
Zari has always been fascinated by creepy stories about Hezekiah Crawly, the real-life inspiration behind her local amusement park's haunted house attraction, so she's thrilled when her friends Mateo and Taylor agree to go on the last ride of the day before the park closes.
But when the ride breaks down, the three get trapped inside the haunted house for the night! As if that weren't scary enough, the kids stumble onto a hidden staircase leading to a dark, cobwebbed crypt that doesn't seem like part of the ride—and by the looks of it, they aren't alone down there. Is it possible the stories about Hezekiah Crawly and his monstrous experiments are true? And if so, can Zari, Mateo and Taylor make it through the night in one piece?
When her small town is rocked by a series of baby kidnappings, Teo vows to spend her summer break solving the mystery, and convinces her friend Logan—who would much rather spend his vacation relaxing—to help.
Their search for answers soon leads them to the woods at the edge of town, and Teo fears some kind of supernatural creature might be behind the snatchings. What else could explain the creepy figure they see moving through the trees, or the bloodcurdling screams coming from the forest at dusk?
Logan has his doubts, but when another child is taken, there's no time to waste. Can he and Teo get to the bottom of the kidnappings and rescue the missing babies before it's too late?
About the organizer
Barnes & Noble is the world's largest bookseller, and a leading retailer of content, digital media and educational products. Located in the heart of Los Angeles, next to the historic Original Farmers Market, Barnes & Noble at The Grove is the West Coast flagship store and the premier location for important author events.
Follow us for updates about future events with your favortie authors!