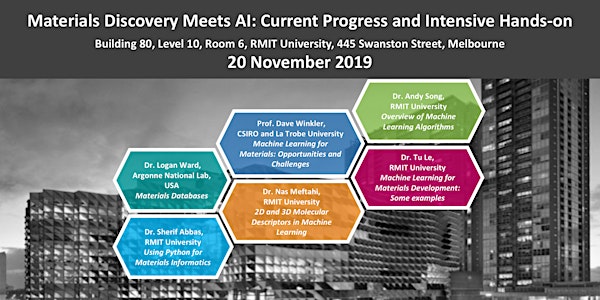 Materials Discovery Meets AI: Current Progress and Intensive Hands-on
When and where
Location
013.02.029 Building 13 Melbourne, Victoria 3000 Australia
Description
Ever wonder how machine learning can empower material research?
Join our Materials Informatics workship at Building 80 on the 20th of November to engage with the pioneers in the field and get some hands-on practice on actual material research problems.
The aim of the workshop is to inform experimental researchers of the benefits of applying artificial intelligent approaches to materials design and to provide techniques to initiate machine learning to improve effectiveness in materials characterization.
Workshop Agenda
09:30-10:10 Prof Dave Winkler: Machine learning for materials: Opportunities and Challenges
10:10-10:50 Dr Logan Ward: Material Databases
10:50-11:10 Tea break
11:10-11:50 Dr Andy Song: Machine Learning Algorithms
11:50-12:10 Dr Tu Le: Examples of Machine Learning in Materials Development
12:10-12:30 Dr Nas Meftahi: Application of 2D and 3D Molecular Descriptors in Machine Learning
12:30-12:50 Dr Sherif Abbas: Using Python for Materials Informatics
12:50-13:30 Lunch
13:30-15:00 Hands-on session
Organizers
Dr Tu Le, Dr Sherif Abbas, Dr Nas Meftahi and Dr Andy Song
RSVP ASAP!