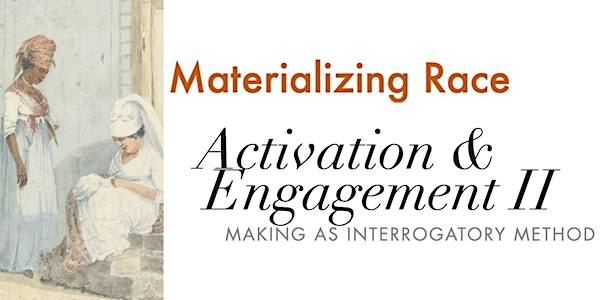 Materializing Race: Making as Interrogatory Method
A roundtable discussion on (re)creating objects and other items using traditional or historical methods.
About this event
***A Zoom link will be sent to registered attendees via email a day before the event***
Building off of our first Materializing Race "unconference" in 2020 we invite you to join us for "Activation and Engagement II: Making as Interrogatory Method." How do traditional methods of making intersect with historical issues of race and identity? This and other questions will be considered as part of a roundtable panel discussion between heritage advocates, historic tradespeople, and scholars who ground their practice of (re)creating objects and other items using traditional or historical methods.
Friday, April 9, 2021 at 1PM EST (via ZOOM)
Maker panel featuring:
*Event schedule subject to change. In the event of a change, we will make every effort to update the schedule as soon as possible.
About Us
In the spirit of fostering nuanced interpretations of early American objects and meaningful dialogue on historical constructions of race and their legacies, Materializing Race offers virtual opportunities to share and discuss scholarship on the intersections of identity and material culture in #VastEarlyAmerica. Energized by Dr. Karin Wulf's call for broader, more inclusive histories of the Americas, our open sessions seek to promote a diverse cross-section of scholarship. Our focus is on the Americas between roughly 1450 and 1830.
Founded in 2020, Materializing Race is an independent, volunteer-run initiative. We are grateful to our panelists for generously donating their time and expertise, and to our audience for being the core of our community and the embodiment of our vision.
For more information about us and to learn about future and past events, please visit our website, Twitter, and Instagram.
We would like to thank the Society of Winterthur Fellows for their generous sponsorship of this event.