ENTREPRENEURS: Bring your startup strategy questions to MasterMinds Startup Accelerator #45 plus valuable legal Q&A with Startup Attorney!
About this Event
ENTREPRENEURS: Bring your startup strategy questions and investor pitches to MasterMinds Accelerator Q&A #45 for fun info and networking!
Bringing you Silicon Valley expertise live from California, the Startup Council's virtual MasterMinds meetings offer software and technology entrepreneurs, startup employees, founders, service providers, and investors a friendly place to help each other by sharing growth company challenges, expertise, and experience.
Together we discuss fundraising, strategy, marketing, IT, legal, angel investing, design, staffing, product development, venture capital, and growth hacking problems in order to develop better solutions together.
Plus, this month Guest Speaker Startup Attorney Joe Daniels of McCarter & English will join us LIVE from New York.
Joe's an expert at helping entrepreneurs start their startups. He'll give a quick talk about legal issues that startup founders need to know, PLUS he'll stick around to participate in our MasterMinds Q&A discussions and give feedback on your investor pitch practices, too.
This is NOT your typical boring webinar. Professionally moderated MasterMinds Startup Accelerator Workshops are interactive and fun to help founders learn how to start, raise money for, and succeed with high growth startup ideas. They offer the best networking, educational, and relationship building opportunities of any online workshop you've ever attended + NO SALES PITCHES!
** FREE TICKETS TO THE FIRST 10 PEOPLE WHO SHARE A STARTUP QUESTION OR PITCH FOR FRIENDLY FEEDBACK.
Just use this quick form to submit and get a FREE promo code: https://bit.ly/MMSquestions
OR buy a ticket just to watch, network, share your feedback, and learn how it's done from Silicon Valley and Stanford experts: http://masterminds45.eventbrite.com
These small, private peer group coaching sessions are perfect for anyone with a tech startup company who would like to share experiences or challenges in a friendly, problem-solving format. Our goal is to help more founders learn how to start, raise money for, and succeed with high growth startup ideas.
[FREE TICKETS for MEMBERS: Members of the MasterMinds Founders Forum, Tech Coast Angels, or Executive or higher members of the OC Startup Council can attend FREE. Just email us for the comp code!]
AGENDA
5:00pm PT Making Friends (Arrive on time so you don't miss the introductions!) (8:00pm ET)
5:15pm PT Guest Speaker Joe Daniels, McCarter & English (8:15pm ET)
5:30pm PT MasterMinds Moderated Q&A Group Discussion (8:30pm ET)
6:15pm PT Networking Breaks (9:15pm ET)
6:30pm PT Investor Pitch Practice (9:30pm ET)
7:00pm PT Follow up with your new friends (10:00pm ET)
SPONSORS
Joe Daniels of McCarter & English, Attorneys at Law
Expert legal counsel to startups and investors nationwide on company formation, financing, growth, and exit. The McCarter & English team is globally renowned for high quality, responsive, pragmatic representation of entrepreneurial tech, life sciences and consumer enterprises and the investors who support them.
Tech Coast Angels (TCA)
The largest angel investor group in the US, TCA members have been fueling the growth of innovative companies and entrepreneurs in Southern California with over $200 million invested in more than 400 companies since 1997.
MasterMinds Startup Founders Forum
The MasterMinds Forum is a friendly 24/7 online community where startup founders get personalized strategy coaching to help grow faster and succeed as startup growth company CEOs. Free Trial: https://www.MasterMindsForum.com
Startup Council
The MasterMinds workshops are a service of the Startup Council. The Startup Council is dedicated to supporting early stage venture founders and accelerating high tech entrepreneurship. Learn more and join for free to list your startup company or service provider in the OC Startup Ecosystem Directory at: https://OCStartupCouncil.org
OC Startup Council Sponsors: Thanks to all of these organizations that support our community service: Rutan & Tucker, Silicon Valley Bank, Tech Coast Angels, Stradling, Greater Irvine Chamber of Commerce, K&L Gates, Knobbe Martens, KPMG, Savills, TAG Accounting, Encore Labs, Opus International, Intellivision.
MODERATOR
Scott Fox, CEO of the Startup Council
3x Best-selling Entrepreneurship Author, Serial Internet Entrepreneur, Startup Advisor, Business Strategist, Angel Investor, Nice Guy.
Bio: https://en.wikipedia.org/wiki/Scott_Fox_(author)
Books: http://www.ScottFoxBooks.com
Contact: https://www.ScottFox.com
CAN'T MAKE THIS ONE? JOIN THE FREE MAILING LIST FOR FUTURE EVENTS AT http://StartupCouncil.org
By attending all attendees agree to release, indemnify, hold harmless, defend, and pay defense costs for all organizers from any and all liability or claims and consent to use and sharing in any media of any photos or videos taken.
THESE PAID PRIVATE EVENTS ARE NOW VIRTUAL SO LIMITED TO ONLY 30 PEOPLE. THEY SELL OUT EVERY TIME - SO PLEASE REGISTER ASAP !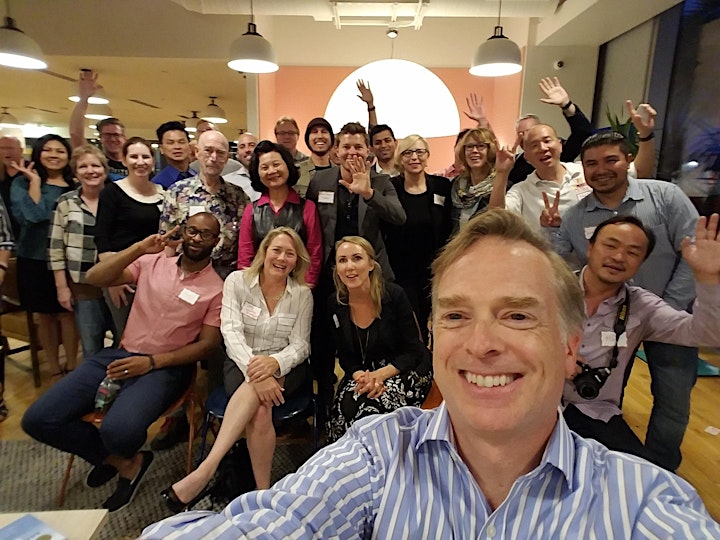 Date and Time
Location
Refund Policy