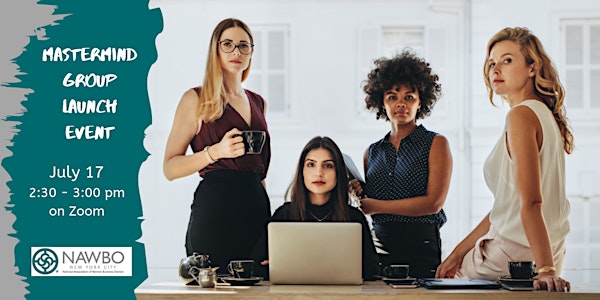 Mastermind Group Launch Event (Members Only)
When and where
Location
Zoom: https://zoom.us/j/579038297
Description
Have you been longing for a safe space to talk about your questions, concerns and opportunities with other women business owners? For an intimate community of women committed to supporting, challenging and inspiring each other? For a place to brainstorm ideas, work through issues and navigate both your business and personal lives?
If so, then apply for the new NAWBO Mastermind Program and join us for a 30-minute informational Zoom video call on Wednesday, July 17 2:30-3pm. Groups will be launched the week of July 29 and will meet for one calendar year. Please note that this group is only for members. You must be a NAWBO NYC member in order to participate. Our goal is to help you meet and build deeper connections with other dynamic NAWBO NYC members who can become a part of your "inner circle."
The new NAWBO NYC Mastermind will take place virtually, over hour-long Zoom calls held every other week. Women will be placed into curated groups of 8–10 from non-competing industries. Each participant will have the opportunity to lead their group, following a format and guidelines provided to ensure a successful Mastermind.
Masterminds are designed to tap into the creative, intellectual, and emotional insights and support of like-minded women. They provide a safe haven for business owners to explore their challenges, visions, and desires; to seek answers, guidance, and resources from women who are on similar paths; and to get to talk about business to their hearts' content!
If this intimate opportunity sounds like heaven, please join us for the Mastermind INFORMATIONAL CALL on Wednesday, July 17 2:30-3pm and apply for a spot in the NAWBO NYC Mastermind Program, which will launch the week of July 29th. Participation on this call ensures priority placement in a group that's the best fit for you.