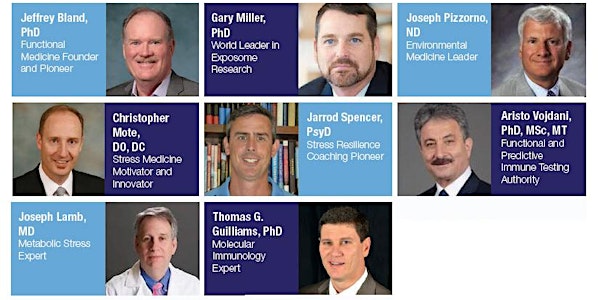 Mastering the Implementation of Personalized Lifestyle Medicine - The Expos...
Location
Gaylord Palms Resort & Convention Center
6000 West Osceola Parkway
Kissimmee, FL 34746
Refund policy
Refunds up to 7 days before event
Description
Mastering the Implementation of Personalized Lifestyle Medicine -
The Exposome Factor: New Approaches to Assessing and Treating Stress-Related Disorders
Since the term Stress was applied to physiological function by Hans Selye in 1936 as "the non-specific response of the body to any demand for change" it has had a negative stigma attached to it. It is now recognized, however, that stress can be both a positive and negative factor in modulating function. Its influence on health is dependent upon the type of stress signal, its duration and intensity, the functional health reserves of the individual, and the genetically triggered response to the signal. In this meeting the focus will be on turning negative stress or distress (dys-stress) that is associated with disease into the positive stress that stimulates high function and health resiliency. Over the past seven decades it has also become clear that stress signals can be psychosocial, chemical/immunological, or environmental. Given this emerging view of stress signals the focus of this meeting will be framed around the new concept of the "exposome" or how an individual receives information from their lifestyle, diet, microbiome, activity patterns, and their physical and social environments and translates these signals into stress/distress. New methods for assessing stress factors and how they are translated into the individual's physiological, physical, cognitive and emotional function will be described. A description the interaction of the nervous, immune and endocrine system functions in stress related disorders and their relationship to specific behaviors will be a focus of this discussion. From this framework a personalized approach to the clinical regulation of the exposome and its influence on reducing distress (dys-stress) contributions to chronic illness will be provided.