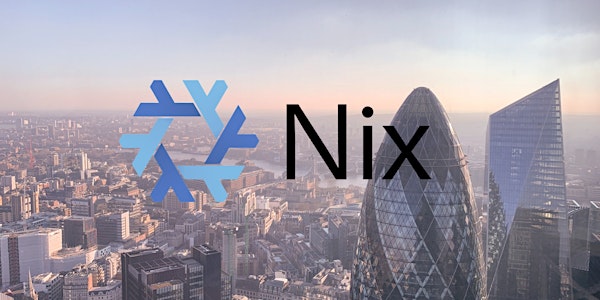 Mastering Functional DevOps with Nix
Mastering Functional DevOps with Nix
When and where
Location
The Royal Geographical Society (with IBG) 1 Kensington Gore London SW7 2AR United Kingdom
Refund Policy
Contact the organizer to request a refund.
About this event
Overview
NixOS is one of the hottest operating systems gaining traction in the DevSecOps (Development, Security, Operations) space. NixOS is powered by the Nix Package Manager and the Nix Expression Language (nixel), an efficient functional domain-specific language for defining reproducible builds. It is used to configure, build and deploy services/applications in an infinitely extensible and customizable manner. Using Nix and NixOS, you can define your own no-compromises Infrastructure As Code and manage your own custom operating system and packages, built entirely from source, whilst also using GitOps techniques to make your code sharable, verifiable, and maintainable in the long term.
Over the course of this full-day workshop, attendees will learn how to provision and install Nix/NixOS, and deploy their own system and applications. We will cover the typical DevOps life cycle so that you can understand and master the meaning of reproducibility and the ways in which it can improve development, continuous integration, and deployment to production.
Who Should Attend
Those who want a single, yet powerful tool based on functional programming concepts to solve the fundamental challenges in DevOps.
Those who are interested in how reproducible software and environments can aid a developer in both building, configuring and deploying applications.
Anyone who wants to learn about the differences between Divergence, Convergence and Congruence in regards to system management and configuration management.
Prerequisites
Familiarity with using SSH and Unix command line tools.
Topics
Nix, NixOS and Nixel
Reproducibility
Package management
Declarative Operating System
A domains specific language for reproducible builds
Building software from source reproducibly with Nix
What is a Derivation?
What is the Nix Store?
Producing OCI images from Nix derivations
Reproducible developer environments with Nix
Configuring NixOS
Stateless deployment
How Nix enables true GitOps
How is Nix different from Docker?
Attendance
This workshop is a one-day workshop being held both in-person and online. In-person attendees should bring a laptop along to access remote ssh machines. In-person attendees can optionally bring a laptop running either Linux or macOS to install Nix and-or NixOS on.
This can be done in advance by visiting https://nixos.org/download.html
We cannot offer guidance or advice on Nix/NixOS within a VM environment on attendees' machines for this workshop.
Materials
Code examples will be shared on the day of the workshop with attendees. There is no need to download or prepare these materials in advance, though links to the material will be made available during the workshop.
About the Authors
Matthew Croughan
Matt was once a Docker enthusiast, but was accidentally captivated by Nix and functional programming whilst working for an Embedded Linux company who were using Yocto + Docker for building and deploying software (tools which are exactly the opposite of functional and reproducible!). Since discovering Nix, Matt has quit his job and become a passionate NixOS contributor, evangelist and founder of Nix.How LTD, a Nix Software Consultancy that focuses on converting clients from legacy, unreproducible systems to Nix/NixOS. Every machine he owns and maintains is built using Nix, which includes his Android devices which are also built with Nix. He created 'nixinate', a Flake native deployment tool/library for NixOS. Along with Lee Hughes, Matt is one of the founders of Nix.Camp, a small event in North Wales for Nix enthusiasts. Lee plays drums, Matt plays guitar. Together, they make a pretty cool team.
https://nix.how/blog/nixcamp-2021-to-2022
Lee Hughes
A self proclaimed Unix Janitor and devops uni(x)corn, Lee has worked in just about every role in the IT industry. This includes Fortune 500 companies, large scale Internetworking, multi-flavor UNIX administration, systems & security engineering, 3rd line troubleshooter and developer success roles.
Lee cut his teeth early in life as a UNIX C programmer, and was doing DevSecOps before it had a cool name. He still has a fondness for Bash. His childhood consisted of messing with 8 Bit C64/Spectrum 6502/Z80 and then moving up to 16 bit assembler for 68000 of the Atari ST/Amiga. He longs for the days that stuff just worked, fueling his current love affair with reproducible software and declarative systems.
Lee currently works as Principal DevSecOps Engineer at Platonic.Systems, consulting for various clients who are interested in working deterministically. He is also Chief Technology Officer at Z.I.O.N.I.X , a brand new next-generation internet startup, focusing on fixing layer 3 networking and replacing IP (Internet Protocol).
He can also be found building 'real world' architecture in the form of Geodesic structures, which he designs from the doctrines of Buckminster Fuller and Jaque Fresco. When not playing with Nix, Lee is a multi-instrumental percussionist and mentor, currently devoting his little spare time to the mastery of the Handpan.
Lee Hails from deep within a Welsh national park where he lives on a boat. He is the cofounder of Nix.Camp, a two week boot camp for those willing to learn, and new to Nix.