Live, Interactive, Online Vocal Masterclass with Jason Ebs.
About this event
Rock 'n' Roll Fantasy Camp's live, online and interactive masterclasses will help you improve your musical abilities and also if you plan on attending a live Rock Camp, this class will help to prepare you for your in-person Rock Camp experience!
Jason Ebs is a rock & roll producer, singer & multi-instrumentalist and one of our top counselors at Rock 'n' Roll Fantasy Camp. He's manifested his musical journey from the young age of 10, and it's led him to tour with Peter Criss & Ace Frehley, Terri Nunn, Chris Slade from AC/DC (in his original band called ECOTONIC with his wife Janea) He also leads the "Jet Velocity All Star Band" which has a revolving cast of legendary players sitting in with them including Dave Amato (REO), Michael Anthony (Van Halen), Hugh McDonald (Bon Jovi), and many others.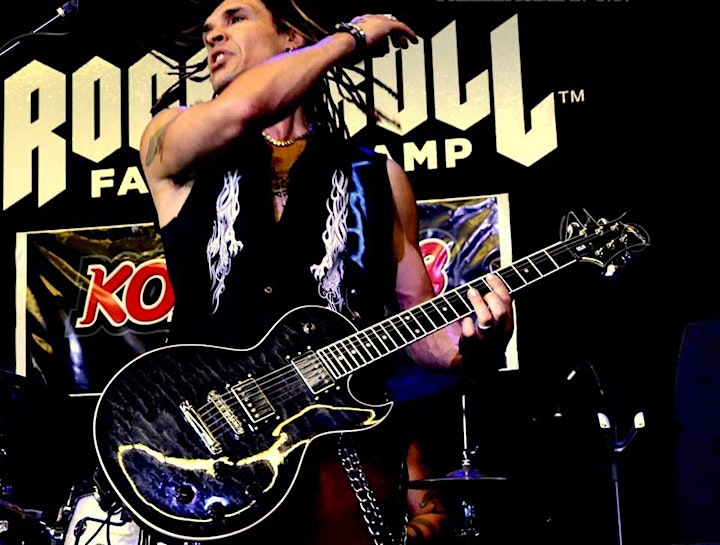 Date and time
Location
Refund policy
Organizer of Masterclass: Vocal Longevity with Jason Ebs

You Online and On Stage with Rock Stars! Jam, Learn, Rehearse, Write, Record, and Perform with the World's Greatest Rock Stars! 
The Mission
Rock and Roll Fantasy Camp was born out of the desire to give the public the experience of living the life of a Rock Star, with Rock Stars, for a few days, and gaining their knowledge along the way. The idea came to David Fishof after years of producing rock tours throughout the word. He's been honored to work with veteran rockers, Roger Daltrey, Ringo Starr, Joe Walsh, Bill Wyman, Peter Frampton and so many more. David's desire to share this experience gave him the inspiration to create the one-of-a-kind Rock and Roll Fantasy Camp. Over the past 20 years our campers and counselors have become family. It's become more than we ever dreamed of.
The Experience
The Rock and Roll Fantasy Camp experience begins the moment you sign up. After careful consideration of your skill level and musical preferences, you are given a list of songs to practice up on before your arrival at camp. At camp, you will be placed in a band of like-minded and equally skilled campers. Your band will be assigned a Rock Star Counselor to mentor your band for the entire duration of the camp and your band will have it's own rehearsal studio. You will have the opportunity to learn from all the other counselors during daily master classes in particular instruments and vocals and also during our nightly themed jam rooms. You will be visited in your rehearsal room by our headlining guest stars. You will have the opportunity for autographs and photos and be privy to an exclusive Q&A in our main room. You'll partake in meals with all the campers and counselors. As you bond with your band and counselor, you will be practicing your set list for your upcoming live performances at popular venues. You will experience the thrill of performing live on stage in front of a packed house including your friends and family! We have this program down. More than half of our campers return and many have been to multiple camps. The experience is hard to describe as each camp takes on a life of it's own based on the campers and counselors attending. Each camp is a fantasy unique. Skills are gained, fears are conquered, friendships are formed, music is created. Check this one off your bucket list!
Our Counselors
Our counselors are not only tremendously talented having sold thousands of gold records and performed in huge arenas, but are tremendous people as well. They know how to give over the knowledge they've gained on their many years in the industry. They are kind, patient, talented, and cool. They start off as your mentors and by the end of camp they are your friends.
Our Gear and Facilities
We only work with top of the line gear by the major manufacturers, Roland, DW, Zildjian, Boss, Gibson, Electro-Voice etc. All gear is in excellent working condition. We use what the pro's use. You are welcome to bring your own as well. Our facilities are fully equipped and used by the biggest names in Rock and Roll. We have professional techs on hand to plug you in and get you sounding your best.
The Takeaway
We call them Destination Camps not just because of the physical, coveted locations we go to, but the Rock and Roll Fantasy Camp Four Day Experience is a destination for the Rocker in you. You will be transported to another dimension as you immerse yourself in the world of Rock and Roll. It's mind-blowing. It's life-changing.
_______
Camps run at various price points to fit your budget. Dates, locations, and artists vary. Please check our website for the latest info on upcoming camps. Camps are for Adults and Teens and bands are divided by age, music preference, skill level, counselor preference, etc. We also offer a corporate program for your company's team-building event or party.
___________
Call us at 888-ROC-BAND (888.762.2263). We look forward to exploring with you how we can make your rock dreams become reality!
http://www.rockcamp.com/