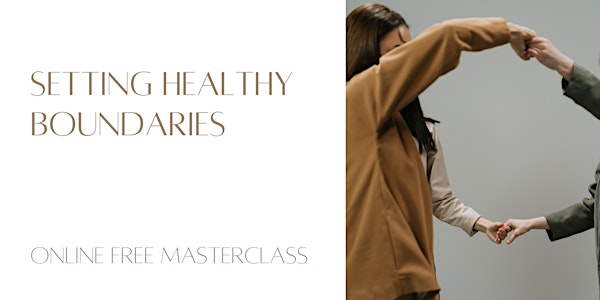 Masterclass: Setting healthy boundaries
How often you didn't say anything as you didn't feel comfortable to set boundaries? In my Masterclass I help you be more assertive.
About this event
Are you looking to build healthy relationships?
Through my coaching as well as my personal experience I would like to approach interesting topics and share with you valuable inputs and great insights to help you build and improve your relationships!
In this Masterclass you will learn:
What is the wheel of influence
What are healthy boundaries
Why is it so difficult to set boundaries
How to set healthy boundaries
How to feel comfortable with it
In addition you will get a chance to share inputs and ask questions to make this a valuable interactive webinar for everybody.
P.S. In order to create a safe space, it will be required from you to switch on your camera.
Register in advance for this Masterclass:
After registering, you will receive a confirmation email containing to link to join for free on Zoom.
You can follow me on Instagram for more content on connect_in_and_out_
https://www.instagram.com/connect_in_and_out_/
And for more individual support, you can book a 1:1 coaching session with me
https://www.connectinandout.com/coaching-1-1-session
For any questions, I am here for you.
Milena