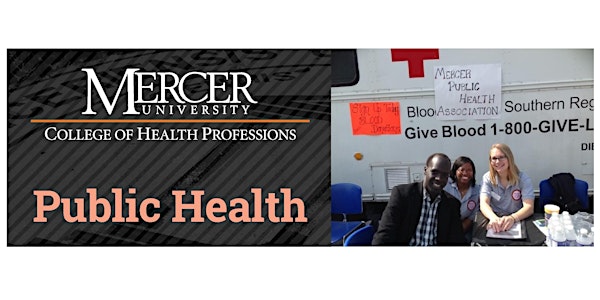 Master of Public Health (MPH) Information Session (VIRTUAL)
Prospective applicants to the Master of Public Health Program are invited to attend an Information Session!
By Mercer University College of Health Professions
Date and time
Thursday, February 16 · 3 - 5pm PST
About this event
Join us to learn more about Mercer University's Master of Public Health program in Atlanta, Georgia. Whether you're just beginning your research or preparing to apply this year, learn more about our graduate program and ask questions about the curriculum, the admissions process, and how the MPH degree can help you achieve your career goals. 
(Please note that the email box attached to this Eventbrite account is not monitored. If you have any questions or need more information about this event, send inquiries to chpadmissions@mercer.edu .  Thank you!)
About the organizer
Mercer University's College of Health Professions seeks to prepare students to improve the health and quality of life of individuals and society through excellence in teaching, research, and service.  
The College of Health Professions is comprised of five disciplines, offering graduate degrees as follows:
Doctor of Physical Therapy (DPT)
Master of Medical Science (PA)
Master of Public Health (MPH)
Doctor of Psychology (PsyD)
Master of Athletic Training (MAT)
Additionally, combined degrees are available to enhance students' knowledge, skills, and abilities.  To learn more about Mercer University College of Health Professions, please visit our site at https://chp.mercer.edu/ .  We look forward to meeting you!