Master Beekeeper Program Training & Testing -Fall 2016
Actions and Detail Panel
Master Beekeeper Program Training & Testing -Fall 2016
Sat, October 22, 2016, 8:00 AM – 8:00 PM EDT
Description
The fall 2016 University of Florida Master Beekeeper Program training and testing day will be only for those looking to join the program and test for the Apprentice level.
To test for the Apprentice level on Saturday, October 22nd, you must:
be a registered beekeeper by the test date (Florida apaiary registration information can be found here),

and have kept bees for at least one full year.
What to expect:
The morning will be filled with lecture-style training sessions.
Examinations (one written, one practical) begin at 2:00pm (see full schedule below):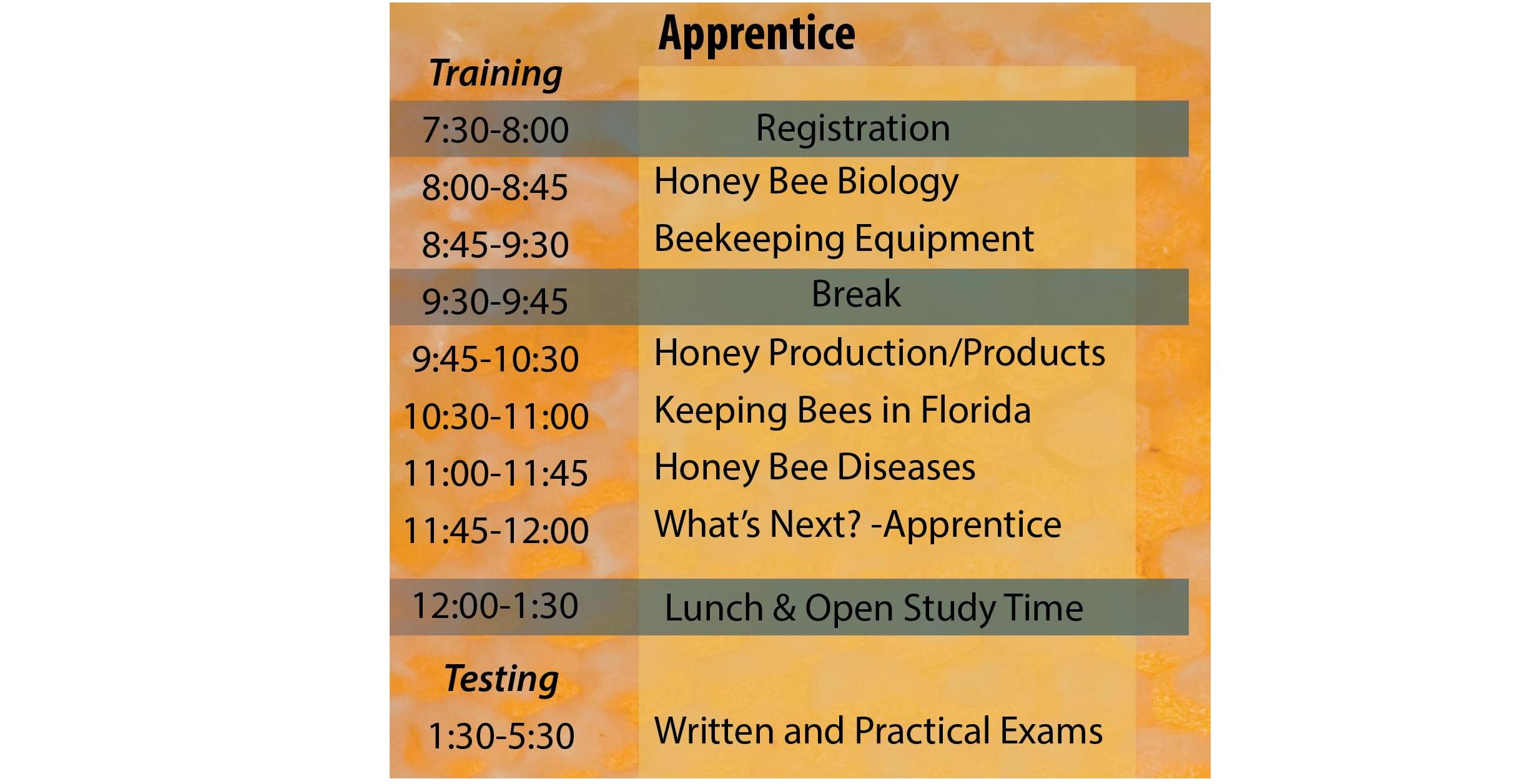 HBREL will provide suits, veils, and gloves for use during the practical exams, however, you are welcome to bring your own protective clothing if you prefer. All other necessary equipment will be provided for you.
Additional information:
If you would like to take part in the training sessions, but do not plan to test this fall, you may register for the morning training sessions only at a discounted rate.
For information on requirements for advancing levels in the UF Master Beekeeper Program, read the summary document found HERE. For specifics on test structures and content, see Appendix F.
NOTE: Walk-up registrations will incur an additional $10 fee.
If you have a physical or learning disability and may need assistance taking the examination, please email honeybee@ifas.ufl.edu before the testing day so that we can accommodate your needs.
Registrations may be cancelled without a charge through October 14, 2016. After that date, all cancellations will be charged a fee of $20.