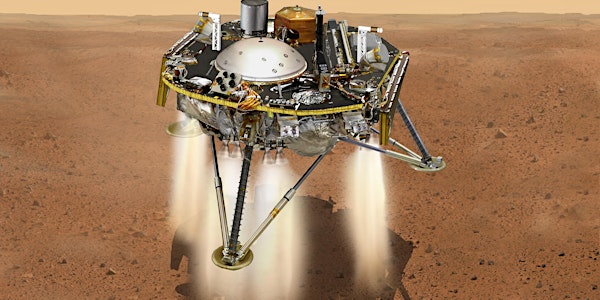 Mars InSight Landing: Viewing Party and Discussion
When and where
Location
Beckman Auditorium 332 S. Michigan Ave. Pasadena, CA 91106
Description
Join Caltech and The Planetary Society as the newest visitor from Earth lands on the Red Planet. InSight is the first robotic explorer built to study the interior of Mars and take the planet's vital signs, including its pulse and its temperature. Watch NASA's live coverage of the landing, which will come from the InSight Team at the Caltech-managed Jet Propulsion Laboratory. Mat Kaplan of The Planetary Society's Planetary Radio series will host a panel of experts who will provide additional commentary on the event on the Beckman Auditorium stage.
This a free, public event. Light refreshments will be provided.
Doors open at 10:30 a.m. Touch down on Mars is expected around noon, with the first images expected soon thereafter.
Seating will be on a first come, first serve basis. An RSVP does NOT guarantee entry. Once the venue is at capacity, we will not be allowed to admit additional people on the list. We recommend that you arrive to take your seat by 10:45 a.m.
Support for this event is provided by Caltech's Office of Strategic Communications and the Campbell Mars Exploration Fund at The Planetary Society.
Parking Directions
To use an online site such as Google Maps, MapQuest, or Yahoo Maps to create a map or driving directions to Beckman Auditorium, enter the address 332 S. Michigan Ave., Pasadena, CA 91106.
Parking in campus lots is available, but will be limited. Please follow the directions on the parking lot signs for payment and only park in unmarked (commuter) spots. See the campus visitor parking information for more details.
Caltech-managed parking lots are located south of Del Mar Boulevard between Wilson and Chester Avenues, as well as in the parking structures at 341 and 405 South Wilson Avenue, and 370 South Holliston Avenue. Handicapped parking only is available in the parking lot north of Beckman Auditorium, accessible from Michigan Avenue.
Two-hour street parking, enforced by the City of Pasadena, is also available on many of the surrounding streets.

Tips on Food
Mars InSight will land at lunchtime, so here are some food tips for attendees.
First, while food and beverages are not permitted inside Beckman Auditorium, free light refreshments will be available outside for those who want a snack. For anyone who needs something more substantial, please plan to bring a lunch which you may eat outside the Auditorium.
You will be able to exit and return to the Auditorium during the event as needed.