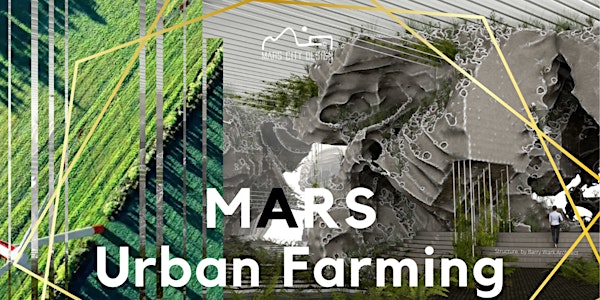 MARS CITY DESIGN Challenges 2020
Growing food for 100 people on Mars, how would the smart structures look like?
Refund Policy
Contact the organizer to request a refund.
About this event
ORIGINAL LINK: https://www.marscitydesign.com/mars-urbanfarming-design-2020
The Challenge
Designing self-sustaining food supply systems that can produce a variety of menus for a crew of 9 people living for 2 years on Mars. What would it look like when the system is multiplied for 90-100 people?
What kind of sustainable, robotic systems, remote controlled, augmented, indoor/outdoor modular urban farming could it be?
What would be the Earth applications of your suggested systems?
The PRIZE:
The Mars City Design Award,
Access to the Exhibition,
Recognition, International Publication,
Connection to the space industry,
The winning designs are subject to be developed and built in the Mars City® location in the California desert.
REGISTRATION Fee:
FREE Before April 15th,2020.
$100 Before June 1st, 2020.
$250 Before July 15th, 2020.
$350 Before August 30th, 2020
Deadline Submission: September 15th, 2020 at 11:59PM
Winner announcement: October 1st, 2020
JUDGES:
Col. Terry Virts, a NASA Astronaut
Colonel Terry Virts (ret) served in the United States Air Force as a fighter pilot, test pilot and NASA astronaut. He is a graduate of the U.S. Air Force Academy, Embry-Riddle Aeronautical University, and Harvard Business School. On Feb. 8, 2010 he made his first spaceflight as pilot of the Space Shuttle Endeavor during mission STS-130. His next launch was onboard the Russian Soyuz TMA-15M on Nov. 23, 2014 from Baikonur, Kazakhstan. In March of the following year, Terry assumed command of the International Space Station (ISS) as Commander of Expedition 43. Virts has spent more than seven months in space.  Virts currently travels worldwide inspiring audiences with stories from space and his insights into life on earth. He brings his unique perspective to businesses, covering diverse topics such as: the environment; global wealth; intercultural leadership; crisis and risk management; innovation; strategy and vision; and decision making. He recently directed his first film, One More Orbit about his Guinness World Record-breaking mission in July 2019, celebrating the 50th anniversary of the Apollo 11 moon landing. His next book, How to Astronaut, is due out in Sep., 2020. Virts also authored Apo11o: To the Moon and Back, a collector's edition reproduction of the original flight plan Neil Armstrong, Buzz Aldrin, Mike Collins and the mission control team in Houston used to plan and execute man's first mission to land on the moon. He is currently involved in several television and film projects, serves on corporate boards, writes and promotes public policy. He is one of only four astronauts to have piloted a Space Shuttle, flown a Russian Soyuz spacecraft, performed space walks and commanded the ISS. Virts has a unique perspective about the earth, having taken more photos from space than any other astronaut. He is also one of the stars of the IMAX film A Beautiful Planet, shooting much of the stunning footage himself.  Virts' photography is also featured in his National Geographic book, View From Above.
Mackenzie McAller Astro Agriculture Expert, CEO of Geonauts
Mackenze is the Chief Generation Officer (CGO) of Geonauts, a global consortium serving as counsel, and stewards for specialty crop producers, processors, buyers and brands in realizing optimal harvests, and value chains. By hands-on experience, emerging technology, applied science, and data, Geonauts design, build, support and supply life systems for Earth, and space. Regenerative ecology, economy and community development enacts our collective mission of Geotherapy (healing Earth), generating and nourishing life, feeding 10 Billion people, and accomplishing the UN Sustainable Development Goals (SDGs) by 2050. Our terrestrial efforts also inform and empower our collective aspirations to grow specialty crops, and regenerate resources for human space exploration.
Samer El Sayary, Mars City Design Ambassador for the Middle East,
Samer El Sayary is an assistant professor of Architecture, researcher and award-winning architect with special passion in Outer space architecture. He gained Over 30 award and prize till the year 2019 from prestigious institutes like the 1st Prize Mars City foundation (Los Angeles, 2017) for Mars tree life, Jacques Rougerie Foundation (Paris, 2018) for Lunar Village and 2016 for project deep space Noah's Ark, Kuala Lumpur Architectural Festival (Kuala Lumpur,2019) for designing Mars Colony ….to name few, His work in exhibited in several countries including NASA Johnson Space Center in Houston (USA) 2018, France 2016, 2020, Greece 2015, Tunis 2011, Egypt winning Egypt with Hassan Fathy award in 2011 and in 2013, Malaysia 2019 and several other countries, His work also has been featured in Discovery channel UK, Dutch TV, California Dreamers, Wired magazine 2017, Up- magazine and L'arca magazine, and many others. He is an experimental architect who participated and taught in numerous workshops in 13 different countries. He continuously explores the relationship between qualities of the past and endeavors of the future trying to find a meeting ground between the two realms using cutting edge technology.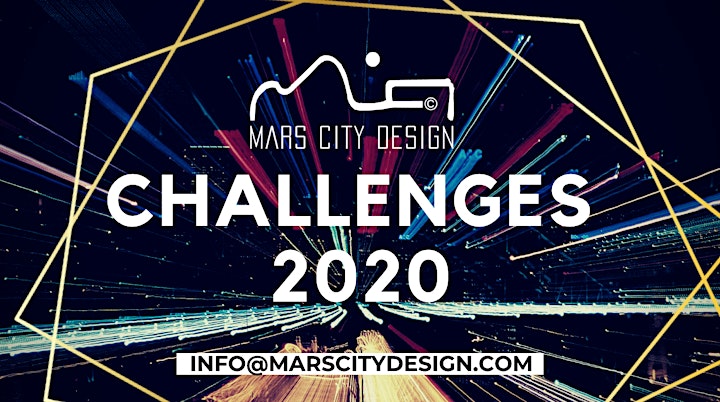 COLLABORATORS / SPONSORS: