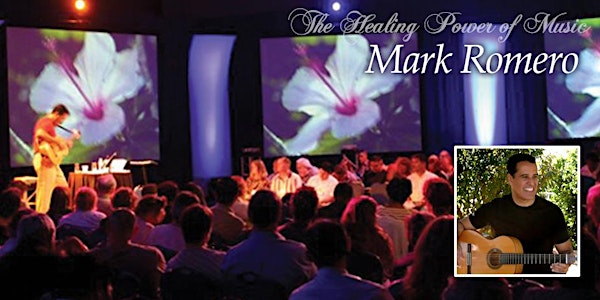 MARK ROMERO, Internationally Renowned Sound and Energy Healer!!
Event Information
Location
Grace St. Paul's Episcopal Church
2331 East Adams Street
Tucson, AZ 85719
Description
Have You Ever Experienced An Energy Healer That Can Shift The Energy In The Room So Strongly That...
...It Makes The Room Tingle And Everyone Can Feel It?
...Have You Ever Experienced..
The Energy Cleansing Benefits Of Musical Sound Healing?..



WELL, COMBINE THEM TOGETHER...
...and that is what you'll experience when Mark Romero performs his method of Musical Energy Healing.
His Performance is An Astounding Experience That Shifts + Cleanses Your Energy In A Way That Makes You Feel Fantastic!
Why? Because:


MARK'S MUSIC CANCELS NEGATIVE ENERGY!!
Within each and every one of us are multiple energy systems that control our body functions, impact our state of consciousness and ultimately our level of success.
Yet we're all exposed to harmful stressors daily such as: Electro Magnetic Frequencies, Chemicals in the Food, Water and Air, and the Most Potent of Energy Interrupters of All, which I'll share about below.
Scientists are discovering how much these energy disrupters affect us all.
Through physical testing, muscle testing, and EEG brain mapping, they were able to prove that these negative influences in our environment actually interrupt our connection to the health giving fields of energy, which caused stress, compromised our health and wellbeing, and lowered our levels of consciousness.
They also have shown the importance of getting into a coherent energetic state to not only improve our health, wellness and vitality, but also to achieve higher levels of success, happiness and wellness in our professional and day-to-day lives.
When a person's energy is optimized in this way, and they are brought in harmony with the universal field of energy that exists all around us, they experience an instant increase in strength, flexibility, endurance, coordination, and balance.
Top Scientist Finds Mark's Music as Effective as Chanting of Paramahansa Yogananda!!

By a series of 'accidental coincidences' Mark was tested by a Former NASA Scientist who found that his music strengthened people against the harmful stressors of life.

This Scientist discovered that Mark's music contains frequencies that shifts listeners into a higher state of consciousness and helps them to live more vibrant, successful and fulfilling lives.
His music instantly assists individuals to dramatically reduce stress, enhance mental performance and expand awareness, opening the door for amazing breakthroughs and unprecedented results!
Additionally, he found that Mark's Music worked as strongly and effectively as the chants of renowed Guru Paramahansa Yogananda!


Now Through The Power Of Music, Tone And Vibration You Can Instantly Put Yourself Into A Coherent State!


...And Align Your Self to the Optimal Vibration For Success, Happiness And Wellness and an Optimal Life!



Through Mark's music, you will...
Integrate more passion and purpose into your life
Bring more health, wellness and vitality to the body
Breakthrough limiting thoughts and perceptions
Transform challenges into opportunities for growth and evolution
Enhance connection to your true essence
Eliminate anxiety and expand capacity for joy
MARK'S MUSIC CAN EVEN HELPED BALANCE AND CLEANSE YOU OF THE MOST POTENT ENERGY INTERUPTER OF ALL: YOUR NEGATIVE THOUGHTS AND EMOTIONS!!

Through EEG brain mapping, his music shifts brainwave functions into a state identified with athletes as the peak performance zone.
Most importantly, the scientist working with Mark showed that the body and brain maintained this higher state when being exposed to energy interrupters.

"Mark's music reached directly into my subconscious, releasing old issues and memories. Blockages dissipated!...This is the most amazing process I have experienced!" - Pam McLellan

Mark's music is a powerful tool that you can easily utilize to lift themselves above the static and noise caused by negative interrupters, instantly reduce stress, improve their health and wellness, and open yourself to new levels of brain function and consciousness.

Parents of children with autism and ADHD, Alzheimer's patients, and stressed corporate executives, have all communicated to Mark the positive improvements his music had on their daily functioning and compelled him to dedicate his life to improving the welfare of others.

Mark will be joined by his wife, Dr. Lara Romero who will also do energy work and provide intuitive answers.

Combined, the Healing they bring will be Amplified to a More Potent and Powerful Level.

See what others have said below:

I was a little skeptical about Mark's claim that his music actually made changes in brain wave patterns and strengthen people, until I experimented on my nephew who is Autistic. I played the music for him during a forty-five minute drive, and received amazing results. This child spends much of his time distracted and talking to himself, but while listening to Mark's music, he was able to concentrate on our conversation and give me feedback to every question I asked him. He has never done this before with me! Needless to say, I highly recommend the music and the work Mark is doing."
- Ken D. Foster CEO – Shared Vision Network

"Wow! Mark's music puts your mind in a state of harmony, relaxation, and at peace. He is a man of great passion and a beautiful soul. I listen to Mark's music every night before I go to sleep... Since I have been playing his music at night before I go to bed I have been able to have a deeper sleep and a clearer mind and less stress...Thank you for blessing us with your music Mark."
- Mike Bennett


Get your tickets now and Join us for this incredible experience!!

Date and time
Location
Grace St. Paul's Episcopal Church
2331 East Adams Street
Tucson, AZ 85719