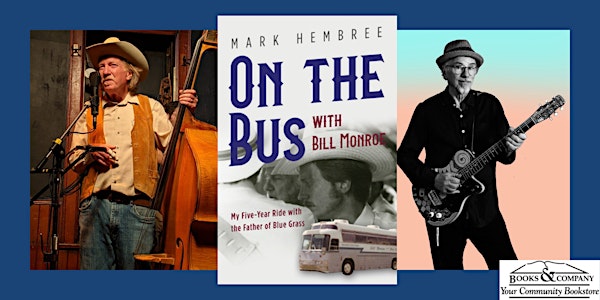 Mark Hembree, author of On the Bus with Bill Monroe, in conversation
Mark Hembree, author of On the Bus with Bill Monroe: My Five Year Ride w/ the Father of Bluegrass, in conversation w/ musician John Sieger.
When and where
Location
Books & Company 1039 Summit Avenue Oconomowoc, WI 53066
About this event
Local bassist and writer, Mark Hembree is joined by John Sieger for an in person conversation about his latest book, On the Bus with Bill Monroe: My Five-Year Ride with the Father of Bluegrass. John's experience as a musician and writer will lead us in conversation with Mark on a behind the scenes journey into the world of bluegrass music with the bluegrass icon, Bill Monroe. John and Mark will bring their instruments along for a taste of music.
If you are a musicologist, a bluegrass fan or simply a reader that appreciates a good music story - this event and book should not be missed. Whether it's figuring out the best time for breakfast (early) or for beating the boss at poker (never), Hembree gives readers an up-close look at the occasionally exalting, often unglamorous life of a touring musician in the sometimes baffling, always colorful company of Bill Monroe.
"A rollicking ride down the bluegrass road with the Father of Bluegrass and his band, and Hembree serves as a truly entertaining tour guide." --No Depression
"An enjoyable memoir. . . . It's a valuable book and should be in the library of any Bill Monroe fan or those with interests in music history." --Bluegrass Today
Mark Hembree is a bassist, vocalist, writer, and editor. From 1979 to 1984, Hembree worked for Bill Monroe as a Blue Grass Boy. He co-founded the Nashville Bluegrass Band in 1984 and was a member until 1988. He returned to Wisconsin and pursued a journalism career, but continued to play music with the Western Box Turtles, and most recently with the Western swing band, The Best Westerns, and his own bluegrass band, the Mark Hembree Band.
Songwriter, singer and guitarist John Sieger has a long resume. His band the R&B Cadets ruled the dance floors in Milwaukee in the 1980s, playing a mix of his originals and obscure soul tunes unearthed by bandmates Paul Cebar and Robin Pluer. In the late 80's his band Semi-Twang recorded for Warner Brothers Records. Both bands have regrouped in recent years and since then, Semi-Twang has released three more collections of his songs, most recently an ode to his hometown, "Kenosha."
"Sieger on Songs," his column at UrbanMilwaukee.com, is John's ongoing love letter to the music he digs.