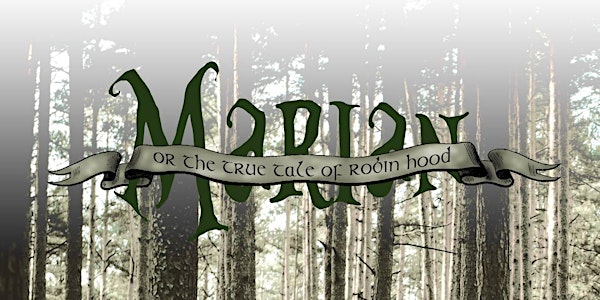 Multiple dates
MARIAN, OR THE TRUE TALE OF ROBIN HOOD by Adam Szymkowicz
By Actors Bridge Ensemble
Date and time
June 29, 2018 · 7:30pm - July 7, 2018 · 9pm CDT
Location
Belmont Black Box Theater 1575 Compton Ave Nashville, TN 37212
Description
MARIAN, OR THE TRUE TALE OF ROBIN HOOD
by Adam Szymkowicz
a co-production with Wild Card Productions
Director: Britt Byrd
Stage Manager: Kat Tierney
Cast: Melinda Paul, Ashley Wolfe, Mackenzie Smith, Fred Brown, David Wilkerson, Lakota Jernigan, Kate Adams, Diego Gomez, Blake Holliday, Alexandra Chopson, JR Knowles, Gavin Jernigan, Matthew Benenson, Melissa Silengo
STORY: A gender-bending, patriarchy-smashing, hilarious new take on the classic tale. Robin Hood is (and has always been) Maid Marian in disguise, and leads a motley group of Merry Men (few of whom are actually men) against the greedy Prince John. As the poor get poorer and the rich get richer, who will stand for the vulnerable if not Robin? What is the cost of revealing your true self in a time of trouble? Modern concerns and romantic entanglements clash on the battlefield and on the ramparts of Nottingham Castle. A play about selfishness and selflessness and love deferred and the fight. Always the fight. The fight must go on.
Design Team:
Set Design: Paul Gatrell
Lighting Design: Richard Davis
Costume Design: Laramie Hearn
Fight Director: Diego Gomez
Associate Producer: Alex Drinnen
Accessibility:
Actors Bridge Ensemble strives to make our performances and facilities accessible to all our patrons. Due to the intimate size of our venues, we have a limited number of accessible seats; please indicate any special needs when purchasing tickets. You can reach us by phone at 615-498-4077 or email at info@actorsbridge.org
About the organizer
WE ARE
We are a Meisner Technique training program for new and seasoned actors.
We are a women-led theatre company of Nashville natives dedicated to telling the stories our hometown needs to hear.
We are committed to taking big risks in the service of authentically reflecting the human condition.
We are in love with broadening what is considered theater in our community.
We are people who help others find their voice and speak their truths on stage and in life.
WE BELIEVE
We believe in theater's power to heal us in a thousand places we may not have realized needed healing.
We believe that the theater is a sacred calling: we make a promise to our community to stay emotionally connected in a world that praises going numb. We promise to feel and remind our audiences how good feeling can be.
We believe in the ensemble principle. The person you see on stage in one show you will likely see behind the light board in the next. The person selling tickets may also be a budding new playwright. Your usher is likely an aspiring actor.
OUR MISSION
Our mission is to tell the stories Nashville needs to hear as we train theater artists, produce socially conscious plays, create new work, expand what counts as theater in our community, and help artists and audiences care more about their neighbors and themselves.
We are the home of Act Like a GRRRL and First Time Stories. 
Phone Number: 615-498-4077. Email: info@actorsbridge.org
Studio location: Darkhorse Chapel, 4610 Charlotte Avenue, Nashville, TN 37209
We perform at our studio and the Darkhorse Theater and other venues around Nashville.