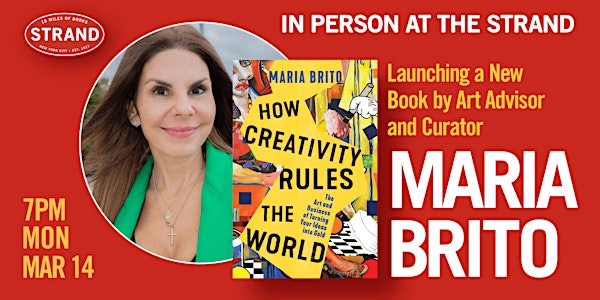 Maria Brito: How Creativity Rules World
Join us for an in-person event with art advisor and curator Maria Brito for a creativity workshop and the launch of her new book.
When and where
Location
Strand Book Store 828 Broadway 3rd Floor, Rare Book Room New York, NY 10003
Refund Policy
Contact the organizer to request a refund.
Eventbrite's fee is nonrefundable.
About this event
You can reinvent yourself in an age of uncertainty. Why do so many companies make it on the Fortune 500 list, and then quickly disappear? It's not enough to succeed once no matter what you do, you must re-imagine yourself. The secret to surviving (and thriving!) in the post-COVID era is creativity. Join us for an in-person event with advisor and curator Maria Brito for the launch of her new book How Creativity Rules World: The Art of Turning Your Ideas to Gold and a creativity workshop that will share how today's most successful contemporary artists cultivate a never-ending renewable stream of ideas and then produce remarkable results. With the right strategy, you can do it too. This event will be hosted in the Strand Book Store's 3rd floor Rare Book Room at 828 Broadway on 12th Street.
All tickets will include a copy of the book. A code to a free audiobook via libro.fm will be available after the event to all customers that purchased a book ticket.
Can't make the event? Purchase a signed copy of How Creativity Rules World here.
STRAND IN-PERSON EVENT COVID-19 POLICY:
In-person events will be presented to a fully vaccinated and masked audience. All patrons over the age of five will be required to show proof* of having completed the COVID-19 vaccination series at least 14 days prior to the date of the event.
*Proof of vaccination will be defined as either an original vaccination card, Excelsior Pass or its equivalent. We will be checking to ensure compliance with the 14 day waiting period post-vaccination.
For contact tracing purposes, buyers must submit the following information at checkout for each attendee in the attending pod: Full Name, Address, Date of Birth, Email Address, and Phone Number. Registration will be required online. No tickets for entry will be sold at the door.
--------------------------------------------------------------------
Learn to make creativity work for your career.
Maria Brito illustrates how creativity is merely a series of habits, actions, and attitudes that anyone can develop--regardless of who you are or what you do.
There has never been a more crucial time than now to develop your creativity and your ability to innovate. Coming up with original ideas of value is today's most precious skill.
Contrary to a myth that has been unfairly perpetuated, creativity can be taught and learned by anyone. How Creativity Rules the World builds the case for creativity as an inexhaustible resource available to everyone and proves that it is the key to thriving in the business world and beyond.
With revealing studies and stories spanning business and art, How Creativity Rules The World is a deep dive into history, culture, psychology, science, and entrepreneurship; breaking down and analyzing the elements used by some of the most creative minds throughout the last 600 years.
Maria Brito discovered the power of creativity when she transitioned from being an unhappy Harvard-trained corporate lawyer to a thriving entrepreneur and innovator in the art world. She flipped the barrenness around her to emerge as one of the most well-known disruptors in the art world.
With this book, you will learn how to:
Overcome limiting thoughts and dispel myths about creativity.
Unleash creativity through concrete data, historical passages, and examples of modern entrepreneurship.
Develop timeless habits, principles, and tools that worked six centuries ago and continue to work today.
Employ creativity in an everyday context to produce extraordinary results.
After applying the principles in How Creativity Rules the World to her own business, she started teaching them to hundreds of people, ranging from entrepreneurs to artists to CEOs. As evidenced by her students' creative successes, Maria knows that this timeless guide will allow others to strike gold with their ideas.
How Creativity Rules the World promises to make the creative process of successful seven-figure artists and billion-dollar entrepreneurs--as well as Maria's own--accessible and actionable for you to take the power of their ideas to the next level.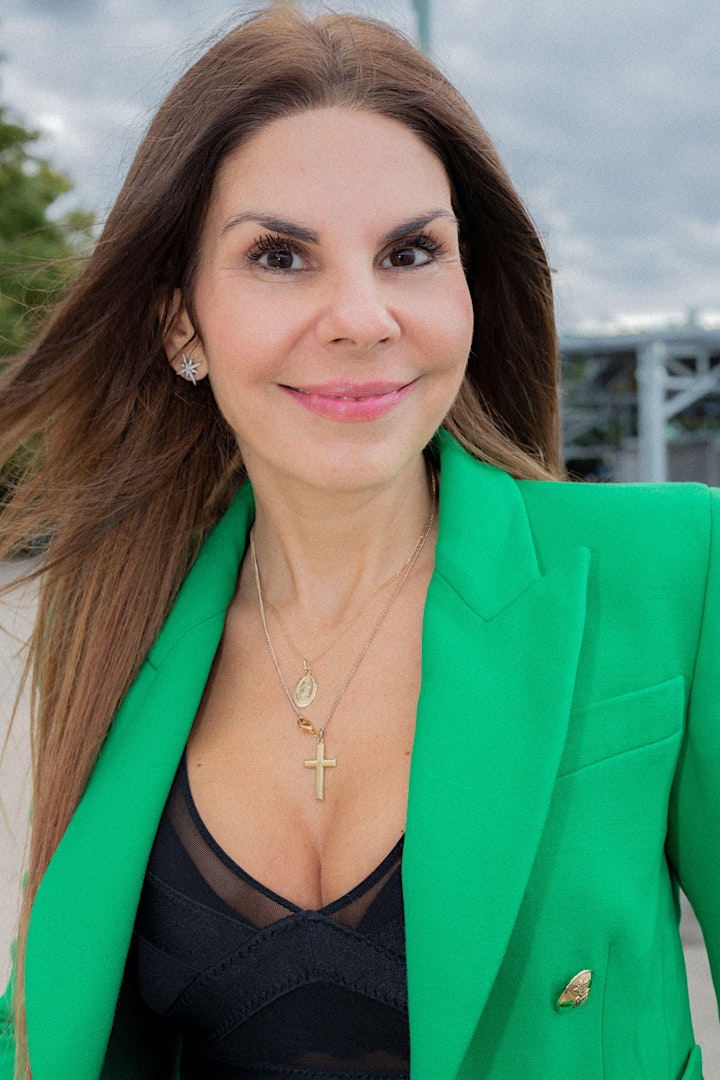 Maria Brito is a New York-based contemporary art advisor, author, and curator. She is a Harvard Law School graduate, originally from Venezuela. Brito was selected by Complex Magazine as one of the 20 Power Players in the Art World and she was named by ARTNEWS as "one of the innovators who gets to shape the art world." She has written for publications such as Entrepreneur, HuffPost, Elle, Artnet, Forbes, Cultured Magazine, Departures, Goop, and The Gulf Coast Journal of Literature and Fine Arts from the University of Houston, Texas.
Maria has curated art exhibitions in three continents and also created and hosted The "C" Files with Maria Brito, a TV and streaming series for PBS's station ALL ARTS
For several years, Maria has taught variations of her creativity class in companies and also designed and launched Jumpstart, a comprehensive online program on creativity for artists, freelancers, managers and entrepreneurs based on years of practical work, research, and observation in both the worlds of business and art.
She lives in New York City with her husband and two sons.