Description
October is Domestic Violence Awareness Month!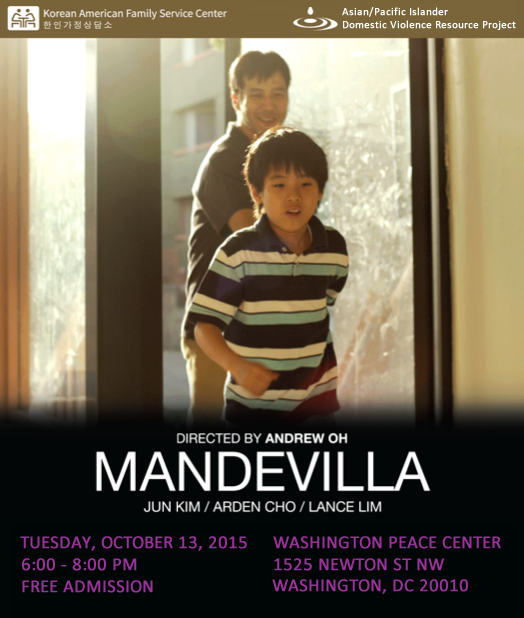 To mark Domestic Violence Awareness Month, DVRP is hosting a film screening on intimate partner violence in the Asian/Pacific Islander community.

When: Tuesday, October 13, 2015 6PM to 8PM
Where: Washington Peace Center
(1525 Newton St NW, Washington, DC 20010)

Please join us for a screening of the short film Mandevilla. Immediately following will be a community discussion on how domestic violence affects our communities and what we can do to promote healthy relationships.
Film synopsis: In an apartment complex in Koreatown, John Kim lives next door to a family where domestic violence is a daily occurrence. John longs to protect Min Young and Sam, her 9 year old son, from the abuse, but can only stand by and watch as their family continues to deteriorate. When things get out of control between Min Young and her husband, John is forced to intervene, revealing a deep and dark truth.
Special thanks to the Korean American Family Services for granting DVRP permission to screen Mandevilla in DC.
For more information, please contact Marie Ramos at marie@dvrp.org or 202.833.2232.