We invite ManageBac administrators to join us for Assessment & Reporting best practices with tips & tricks from real school scenarios!
About this event
We invite intermediate to advanced ManageBac users to join us for 2 days of Assessment & Reporting best practices in a remote learning event restricted to 40.
Listen to techniques from exemplar schools, view demonstrations from the experienced and friendly ManageBac Support team, and create stunning report cards live in hands-on workshop.
This workshop is also a chance to meet like-minded coordinators managing the demands of the IB programme. Sessions will provide time to mingle and share ideas and processes with other ManageBac schools, and hear from the ManageBac team and guest speakers.
Whether you need assistance preparing your upcoming reports, are looking to change how you assess, or are just interested in learning more about being a ManageBac Administrator, we welcome you to join this workshop.
We ask that registrants:
Share with us report card examples upon registering, so we have a clear picture of what you are looking for from the event and for your report cards.
Ensure you have the Reports module enabled on your school's ManageBac account prior to the event. This can be done via Settings > Services Manager > Report Cards > Enable if you are not currently subscribed to the module.
Read and watch materials shared prior to the session to get you started. This will be issued via email in the weeks prior to the event.
Who is the event intended for?
Users who are configuring Assessment settings and generating Report Cards on ManageBac. This could either be full Administrators or Teachers with Report and Academic permissions.
First-time users of ManageBac Report cards are welcome to attend to learn the ins-and-outs, however, some experience with Administrator rights and daily management of a ManageBac account will be assumed.
Experienced ManageBac Administrators are welcome to join and get a fresher or update on new features, and learn Support-team best practices.
Sessions are available for DP, MYP and PYP assessment & reporting. These sessions will be running concurrently.
Event Schedule
**Schedule is subject to changes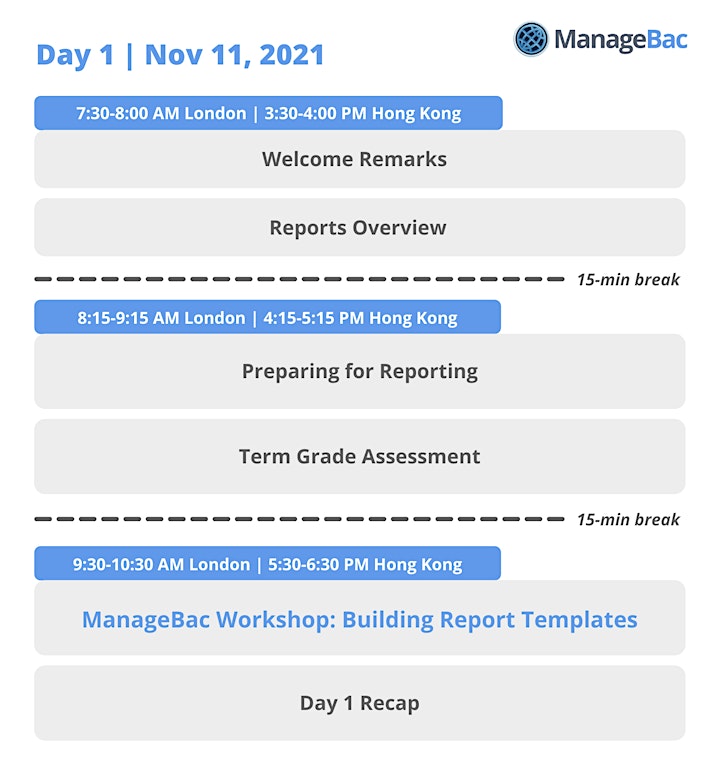 What is required to access?
A Laptop or device to be able to login to ManageBac or other platforms used during the event.
Stable internet connection.
Your questions and ideas!
*Recording of the sessions might not be available due to Zoom breakout-room recording limitations.
For any questions, please contact events@fariaedu.com
Organizer of ManageBac Assessment & Reporting Workshop
Faria was founded in 2006 to transition schools from paper onto a curriculum-focused learning platform. Today, Faria powers curriculum for over 10,000 schools & districts and 3 million students with a suite of 3 services. ManageBac for curriculum planning, assessment and reporting, OpenApply paperless admissions, and Atlas for curriculum management.