Siddha Yoga Master Nandhiji empowerment with the mindset, mantras and manifestation abilities to transcend any impossible life situation.
About this event
Do have a situation to resolve or a dream that you would like to make happen? If so, you are not alone and discovering how to co-create with the help of Divine intervention can open the way for new, miraculous possibilities.
Saturday May 1st at 1 pm PT get ready to take a Quantum Leap forward in your spiritual progress, financial wellbeing and physical performance as in health & vitality.
Siddha Master Nandhiji will initiate YOU into the Superhuman consciousness and science of the Siddhas. This powerful blessing and empowerment will help overcome any previous impossibilities in your mindset and energy field.
Together during this event, the Grace of Lord Siva, eight powerful Siddha Gurus and the mystical, miraculous power of special manifestation mantras will be invoked to help you immediately change any life situation and help you align to the powerful possibilities of your authentic life purpose.
This is the sacred science of the legendary ancient Siddhas of South India who have achieved states of consciousness and abilities far beyond normal human abilities. This is a 10,000 year old lineage coming from the primordial Gurus of Creation and Yoga.
As Yogic teachers such as Patanjali have described, the abilities known as siddhas include attaining superhuman consciousness, the ability to manifest and attract immense riches from the Cosmos, exceptional strength, creativity and love.
Siddha Master Nandhiji has been blessed to have eight exceptional Gurus of the Siddha lineage and personal initiation by Lord Siva. He has also been the presence of the immortal Babaji.
Until very recently, this rare Siddha knowledge has been a hidden secret known only to those able after many lifetimes of spiritual seeking to travel to the remote shrines of South India for initiation and guidance in person.
Now the empowering secrets of Siddha wisdom and their power mantras is being released to uplift humanity during this time of intense challenge and transformation. Take a moment ask yourself is the Divine intervention, and co-creation initiation that you have been yearning for?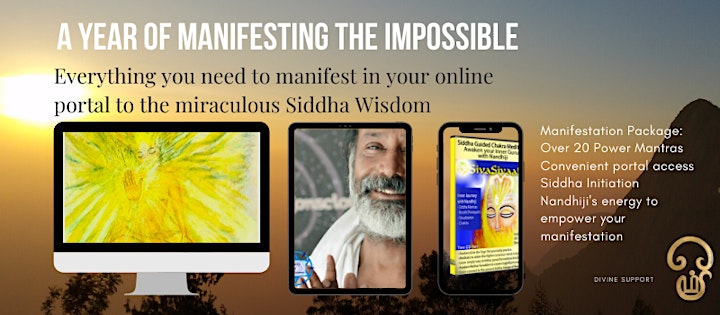 Your "Make the Impossible Possible" Initiation Package Includes:
90 Minute Live Siddha Initiation and Teaching Empowerment by Nandhiji on Zoom to help make your impossible desire possible.
Activate Six Master Siddha Keys to change the Impossible to the Possible in your life:
1) Activate Divine Grace
2) Activate Divine Action
3) Activate the Power of Prayers
4) Activating Inner Power
5) Activate the Power of Spirit in the Human Experience
6) Activate the Infinite Power of being the Cosmic Child
We will be working to focus the energies of the Gurus and the group of all those present at the live event to manifest our heartfelt impossible desires. The more we are joined in joy of manifestation the more powerfully and quickly are new realities are amplified and multiplied.
Join the joy, register today and invite your friends to come and celebrate the birth of these powerful new, miraculous realities together.
The Siddhas have a sacred sound that connects you to the Grace of Manifested Blessings
Activating the power of the Group energies we will chant the mantra for manifestation together to bring in the manifestation of your new realities.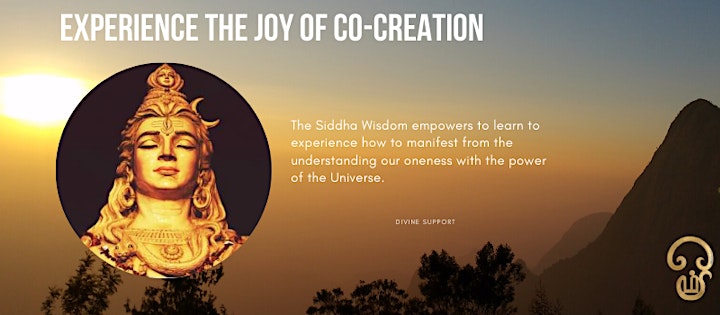 One Year Access to Miraculous Siddha Bonuses Included:
Included with your live event will be recording of the event. You can tune to meditate, visualize and activate a new reality for each new desire you with to manifest.
Bonus Siddha Wisdom Manifesting Activators you will receive for registering include one year access to your online portal with:
Invocation prayer of the 210 primordial Siddha Masters recording to empower any meditation and manifestation
Siva Sivaa Mantra Initiation with 9 powerful Siddha Mantras and practice audios to permanently transform your realities.
Chant 108 times with Nandhiiji of the manifestations given to keep the vibration field of your home and office in the miracle zone.
A digital copy of the Divine image of Nandhiji's painting "Gurus Grace" bestowing Divine Light and protection Keep on your alter and digital devices to receive Gurus Grace and boons.
These initiations and teachings are the fruits of Nandhiji's and the Siddha Gurus lifetimes and lifetimes of Spiritual Practice including austerities, journey's to remote places, intense guidance and presence of Siddha Sages, Lord Siva, Lord Muruga and Babaji the immortal consciousness that guides humanity who appeared to Nandhiji.
This highly powerful energy will unfold impossible miracles of love, grace and blessings in your life that go beyond normal human experience.
"Access your Immediate Download of Nandhiji Blessed Manifestation Chant for you when you register."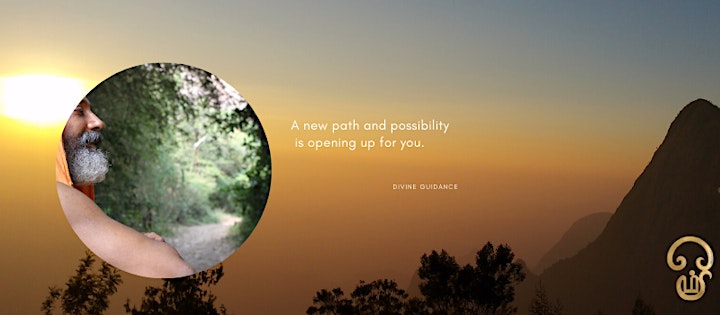 **Rare - Soul Blessing Empowerment
Extra Personal Empowerment from Nandhiji to move from the impossible to the possible in your life.
This soul blessing personal time with Nandhiji option is for those highly committed to a Super Conscious Breakthrough to know themselves and the Cosmos. With great respect and love Nandhiji as a sacred lineage holder can help remove all blocks and karmas that have kept you in struggle, difficulty or not flourishing in every aspect of your health, wealth and relationships.
Nandhiji is able to go beyond the delusions and misinformation of the mind and help you discover your unique true essence, purpose and soul expression. This process helps you instantly release lifetimes and lifetimes of suffering, delusion, karma and renew yourself in light.
This is a joyful, highly concentrated 30 minute powerful, personal time between you and Nandhiji.
- During the Soul Blessing Session, Nandhiji will help you understand yourself as a soul with a unique purpose and Dharma in this lifetime.
- You will receive initiation into the mantra that is most uniquely suited to evolving your own soul and incarnation in this life.
- Nandhiji may at your request also connect with the Akash to let you know your eternal spiritual name. This is optional.
For those who are taking the Soul Blessing, Nandhiji will also bless and send the following to help and guide you on your spiritual journey.
Included with this upgrade Package:
When you choose the Personal Time Package you will also receive:
- Six hand-signed and blessed prints of Sacred Presence Paintings by Nandhiji. The painting contains the energies of direct transmission of the Siddha energies. Remarkable benefits and experiences of light and transformations of heath have been experienced by those who have meditated with these paintings.
- You will receive a blessed and empowered Mala of 108 beads to help you work with your Siddha Mantras.
- Plus you will receive the Sacred Vermillion and Ash which is how the Saints and sages transmit divine energy and manifesting power to you.
- As an Siddha Master Nandhiji will help dissolve your obstacles into the Divine light of Siva to set you free to live your highest possibilities in this incarnation.
Overcome all that has limited and blocked. Manifest the full potential of your Soul.
*This personal time is for those who have bought this option along with the Soul Blessing program. Unless you have chosen this particular option you will be part of the lgroup program only.
** Due to Nandhiji's schedule and commitments to uplift global consciousness opportunities for personal readings and blessings are only offered a few times per year.
FAQ: How do I know if this event and initiation blessings are right for me?
This initiation, blessing and manifestation event is for you if you have been experiencing any of the following:
You have been alone on the spiritual or yoga path but know you are ready to move into the next level and co-create with Divine Support.
You feel tired and confused by current world events
You have always felt there was more to life than the 9-5 and being stuck in routine
You have been wanting to find a way to make a quantum leap forward in your career and finances
You want to get clarity on your life purpose.
Deep within your being you have always known that MORE is waiting for you. Now you have received your destiny, this call to powerfully upgrade your life in 2021.
Nandhiji himself has overome extraordinary challenge and impossibilties. Now, he compassionately ready to help you overcome all that has held you back from your greatest life.
Will you feel and answer the call and join Nandhiji to transform the impossible in your life to possible? Come and experience the joy of flowing with Divine Grace and Joy. Claim your powerful life of manifested miraculous Realities.

About Siddha Master Nandhiji
Humanitarian, Author and Visionary Consciousness Leader
Nandhiji is a Siddha Yoga Master, humanitarian & visionary awakening humanity through mystic wisdom, community and service. He is an artist, award-winning, ecstatic chant musician, author and teacher- representing the path of the Liberated Siddhas.
Nandhiji is the founder of the Declaration of Consciousness Movement
Nandhiji was gifted with a childhood experience of the Divine when he was four years old. Later as a young adult while leading an active life of family, he was initiated through a death experience by his first Guru, and his journey into the mystical realm of the Siddhars as a yogi began. After years of seeking "wholeness" through connection with the inner world, Nandhiji woke up to understand his highest purpose: to uplift humanity in consciousness.
Nandhji was born into a very well known Indian family and managed many large successful businesses and got his MBA before waking up in consciousness. Nandhiji shares the life enhancing wisdom and teachings of the Siddha Sages, the liberated mystics of South India.
Nandhiji's award-winning music that has been calibrated at the level beyond enlightenment on the Hawkins scale of consciousness. Nandhiji is working to help humanity at a global scale, founding the Declaration of Consciousness Movement and World Yogi Day. He is a sought-after keynote speaker at conferences and festivals around the world where he holds space to help people powerfully transform their consciousness in an instant. He has also been featured in feature films on documentary and consciousness.
www.nandhiji.com
*Click Ticket Above to Claim Your Spot and Early Bird Tickets.
Please note, popups must be enabled in your device to checkout.
If you would like to use your phone to checkout download the eventbrite app to purchase your ticket securely
ios https://apps.apple.com/us/app/eventbrite/id487922291
android https://play.google.com/store/apps/details?id=com.eventbrite.attendee&hl=en_GB&gl=US
**Terms and Conditions: All ticket and package sales are final and non-refundable.
Date and time
Location
Refund policy