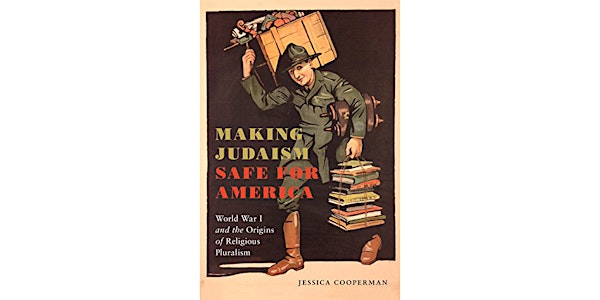 Making Judaism Safe for America in WWI - Jessica Cooperman
When and where
Location
National Museum of American Jewish Military History 1811 R Street Northwest Washington, DC 20009
Refund Policy
Contact the organizer to request a refund.
Description
Jessica Cooperman joins us to discuss her new book Making Judaism Safe for America: World War I and the Origins of Religious Pluralism. Program is co-sponsored by the JWB Jewish Chaplains Council with introduction from Rabbi Irving Elson, Director.

In 1956, the sociologist Will Herberg described the United States as a "triple-melting pot," a country in which "three religious communities - Protestant, Catholic, Jewish – are America." This description of an American society in which Judaism and Catholicism stood as equal partners to Protestantism begs explanation, as Protestantism had long been the dominant religious force in the U.S. How did Americans come to embrace Protestantism, Catholicism, and Judaism as "the three facets of American religion?"Historians have often turned to the experiences of World War II in order to explain this transformation. However, World War I's impact on changing conceptions of American religion is too often overlooked.
This book argues that World War I programs designed to protect the moral welfare of American servicemen brought new ideas about religious pluralism into structures of the military. Jessica Cooperman shines a light on how Jewish organizations were able to convince both military and civilian leaders that Jewish organizations, alongside Christian ones, played a necessary role in the moral and spiritual welfare of America's fighting forces. This alone was significant, because acceptance within the military was useful in modeling acceptance in the larger society.
The leaders of the newly formed Jewish Welfare Board, which became the military's exclusive Jewish partner in the effort to maintain moral welfare among soldiers, used the opportunities created by war to negotiate a new place for Judaism in American society. Using the previously unexplored archival collections of the JWB, as well as soldiers' letters, memoirs and War Department correspondence, Jessica Cooperman shows that the Board was able to exert strong control over expressions of Judaism within the military. By introducing young soldiers to what it saw as appropriately Americanized forms of Judaism and Jewish identity, the JWB hoped to prepare a generation of American Jewish men to assume positions of Jewish leadership while fitting comfortably into American society.
Jessica Cooperman is Assistant Professor in the Department of Religion Studies and Director of Jewish Studies at Muhlenberg College.