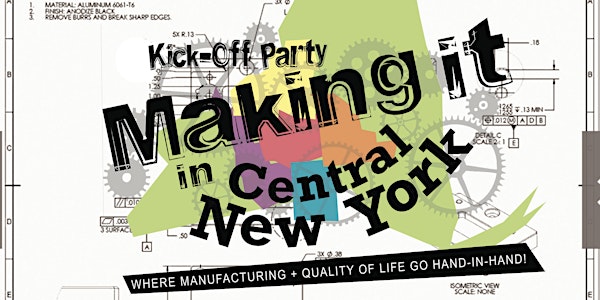 Making it in Central New York Kick-Off Party
When and where
Location
Former Dietz Lantern Manufacturing Facility 225 Wilkinson St. (Corner Leavenworth & Erie Blvd. W.) Syracuse, New York 13204
Refund Policy
Contact the organizer to request a refund.
Description
See how the Making it in Central New York movement is changing the conversation about manufacturing and making a good life in Central New York
The Making it in Central New York Mission:
Create energy that changes the conversation about manufacturing and making a good life in Central New York. Uplift spirits within the region between friends & family, neighbors
and businesses.

Emphasize that we:
> Have a remarkably diverse set of skills to offer global customers – if they dream it, we can make it here
> Are home to many thriving niche/contract manufacturers – we increase business and employment opportunities throughout the region
> Benefit from an incomparable quality of life with
- low cost of living
- affordable housing
- quality medical care and education at all levels
- easy traffic commutes – so we can maximize personal time
- ready access to sports, recreation, arts & culture
- semi-pro and college sports teams
- proximity to major northeast and international cities via road, rail, air and water
- four beautiful seasons to enjoy
- a rich cultural heritage

Why?
Because the region's best days are ahead of us. We have a thriving community of small and mid-size manufacturers, including companies with a long-standing history in the region and those who are making their way here.

Let's not be defined by losses anymore. In past decades, as large, mass-manufacturing jobs moved out of the Great Lakes Region, many blue-collar households lost their livelihoods. This had a deep and lasting negative impact on the Central New York economy. Struggles have been real, and spirits have been low.

We can work our way out of this past – with the skills we kept, our smarts, creativity, and our grit. Many manufacturers have held on, made it, and are tooled up for the next industrial revolution.

Let's let our perseverance and ability to thrive define us. Let's talk about how we are making great products – and good livings – in Central New York.


Part Exhibit. Part Networking. Part party... ALL SPIRIT!

Thank you to our sponsors: Society of Manufacturing Engineers Chapter 19, LeMoyne College, Darco Manufacturing, Dannan Tool, D-K Manufacturing, Syracuse New Times, Spinnaker Custom Products, and Jacobsen Rugs
Jacobsen Rugs will be open and offering event specials!