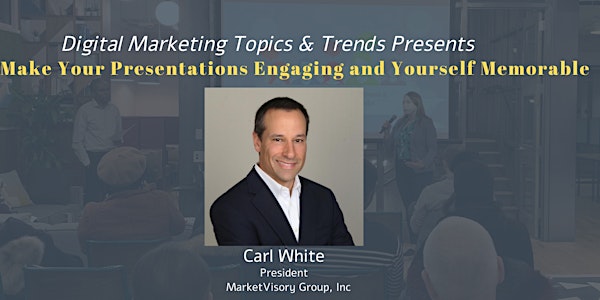 Make Your Presentations Engaging and Yourself Memorable
Digital Marketing Topics and Trends is excited to bring in Carl White for our next event!
About this event
Digital Marketing Topics and Trends is excited to bring in Carl White for our next event!
Wondering how to make your presentations more engaging and memorable?  
Many marketers give presentations to audiences of potential clients, referral sources, and others to build trustworthiness and generate leads. Presentations that hit those goals don't feel like presentations. They feel like a discussion between you and your audience - natural, 3-dimensional, easy to understand. The audience leaves happy and feeling positive about you.
Many presenters don't give presentations that feel like discussions. They feel heavy on detail and hard to understand. The presenter comes across as scripted instead of natural. All of these chip away at trustworthiness and make it harder to generate leads.
In this presentation, Carl will walk through practical changes you can make on how to prepare, practice, and deliver your presentations so they feel engaging while making you memorable.
Speaker Bio: Carl White, founder of MarketVisory Group, focuses on helping healthcare businesses build sustainable growth. Over his career Carl has given 100+ presentations to audiences ranging from small business owners to C-suite executives. He took 1:1 extensive coaching on building and giving presentations during his time at Baxter and Hollister.
Carl has over 17 years of experience doing marketing in healthcare. For much of his career he worked at Baxter and Hollister. While he learned a tremendous amount of what good looks like in healthcare marketing, he was limited to helping only the patient populations and the medical practitioners Baxter and Hollister focused on. He started MarketVisory Group so he can broaden his reach and help a wider variety of doctors, clinicians, and patients. Carl is a Duct Tape Marketing Certified Consultant. He lives in Northbrook, IL.
----
Join us on for an engaging conversation and actionable information.
⏰Schedule: 
6:00pm - 6:15pm - Check-in 
6:15pm - 7:15pm - Presentation / Q&A 
7:15pm - 7:30pm - Networking  
The networking portion will consist of Zoom break-out rooms where you'll be put into smaller groups so that you can connect with members. 
---
How to access the virtual room 
Once you're registered for the event, you'll see a link to an Eventbrite page to access the Zoom link. This link will be on the calendar invite and also emailed to you.
Email or text Daleele if you don't receive the link. 
Email: daleele@rooksdm.com
Text: 919-946-8694
----
Like us on Facebook and join our group for additional discussion and resources, as well as stay up to date on future events!