Description
Come hear Jake Knapp, author of the bestselling book Sprint, share advice from his new book Make Time and get a free copy 1 week before it's released, personally signed by Jake!

For anyone who has ever thought, if only there were more hours in the day..., Make Time will help you stop passively reacting to the demands of the modern world and start intentionally making time for the things that matter.

Make Time is a new book about finding focus and energy in your daily life it is not about life hacks, or time-saving tricks. It's about creating time for what matters by rethinking the defaults of constant busyness and distraction.

Make Time isn't about productivity, or checking off more to-dos. Nor does it propose unrealistic solutions like throwing out your smartphone or swearing off social media. Making time isn't about radically overhauling your lifestyle; it's about making small shifts in your environment to liberate yourself from constant business and distraction.


About Jake Knapp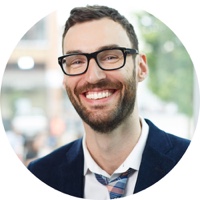 Jake spent 10 years at Google and Google Ventures, where he created the Design Sprint process. He has since run it over 150 times with companies like Nest, Slack, 23andMe, and Flatiron Health. Today, teams around the world (including the British Museum and the United Nations) use Design Sprints to solve big problems and test new ideas.
Previously, Jake helped build products like Gmail, Google Hangouts, and Microsoft Encarta. He is currently among the world's tallest designers.

Learn more about Jake at https://jakeknapp.com
Learn more about Make Time at https://maketimebook.com
Score Your Free Copy of Jake's New Book 'Make Time'
Thanks to our sponsors Amplitude and Pendo, we will be giving away 150 copies of Jake's new book Make Time, 1 week before it will be released to the public! Plus, Jake will be signing copies at our event starting at 5:30 pm. Don't miss this unique opportunity to be one of the first people in the world to get your hands on Jake's new book.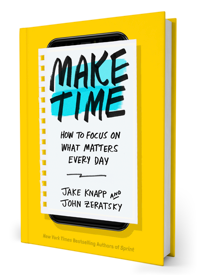 Schedule
5:30 to 6:30: Check-in and networking over dinner, Jake will be signing books
6:30 to 8:00: Jake's talk plus Q&A
8:00 to 9:00 Prize raffle followed by networking
Note: tickets are non-refundable.
About our Sponsors

Our sponsor UserTesting enables companies to put their customers at the center of every business decision by leveraging the power of human insights. Through our platform, product & design, marketing, and UX teams connect with their exact target customer in a matter of hours and uncover actionable insights that drive ROI. Learn more at usertesting.com.

Our sponsor Amplitude provides product analytics to help you build better products. Learn more at amplitude.com.

Our sponsor Pendo helps product teams deliver software users love. Pendo captures product usage patterns and user feedback, and lets you communicate in-app to onboard, educate and guide users to value. Learn more at www.pendo.io.

Our sponsor UserVoice combines feedback from multiple sources and teams to give product managers a singular, complete view of customer feedback. Save time, shorten research cycles, and ship the right functionality, faster. Learn more at uservoice.com.


Our sponsor Split's feature experimentation platform helps businesses to make smarter product decisions. Learn more at www.split.io.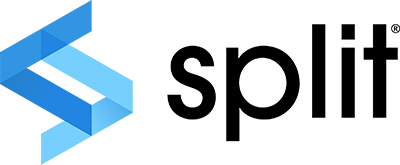 Our sponsor Sam's Club is hiring product managers and designers. Learn more at http://bit.ly/sams-pm-ux.

Our sponsor Balsamiq is the easiest way to wireframe your product ideas. Learn more at balsamiq.com.

A big thank you to Intuit for providing the space for our event!

Our sponsor Coreography provides corporate video and webinar solutions. Learn more at coreography.com.