Madly Loved: A Mother and Daughter Conference
About this Event
How can we expect girls to drop the mean girl drama and love each other if they don't even know how to love themselves? More importantly, how can they love themselves if they don't know how madly loved they are by God?
This conference was designed to help mothers and daughters grow closer by strengthening their relationship. It's all about open and honest communication, mutual respect, and secure young women who know their value and self-worth.
POWERFUL SPEAKERS ✦ MOTHER/DAUGHTER PANEL ✦ LIVE MUSIC ✦ PHOTO BOOTH ✦ SWAG BAGS ✦ AND MORE!
Throughout the day girls and moms will learn skills and strategies to forge an unbreakable bond and develop unshakable faith and confidence.
Spanish translation during the conference will be available.
Ticket Prices Through January 18, 2019:
$25 each* includes lunch, refreshments and a conference t-shirt. Tickets are discounted to $20 for each additional daughter. (*plus processing fee).
Scholarships can be provided if financial assistance is needed.
Tickets purchased after January 18 are $40 per person.
SEATING IS LIMITED. REGISTER TODAY!
Learn more at www.MadlyLoved.com.
Madly Loved is produced in partnership by Project Outreach, MadLove Ministries, and Grow Church.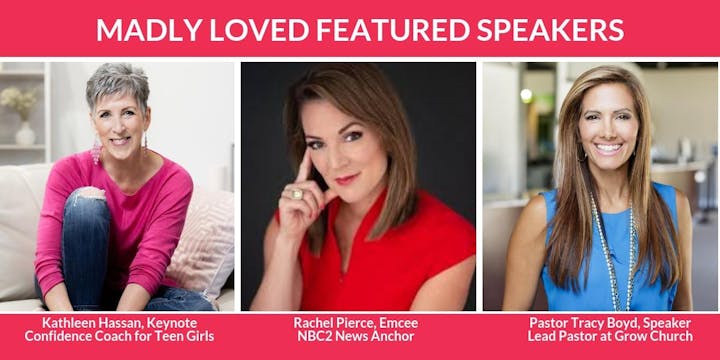 About Keynote Speaker Kathleen Hassan
If anyone ever told me, way back when I was a teenager, that one day I would be invited to the White House to discuss issues facing women and girls I would've told them they were crazy. Having lost both my parents, my dad died when I was ten and my mother died when I was sixteen, I had all I could do to survive.
But I believe that God had a plan for my life and that everything that ever happened, didn't happen to me — it happened for me. Every challenge that I faced as a teen girl, every thought of unworthiness and shame, every moment of feeling like I wasn't good enough prepared me for the work I do today with teen girls.
My hard-earned lessons have become the foundational building blocks of my Unshakable Confidence System that teaches teen girls how to find their voice, step into their power and ultimately change the world.
Learn more about all our featured speakers at www.MadlyLoved.com.