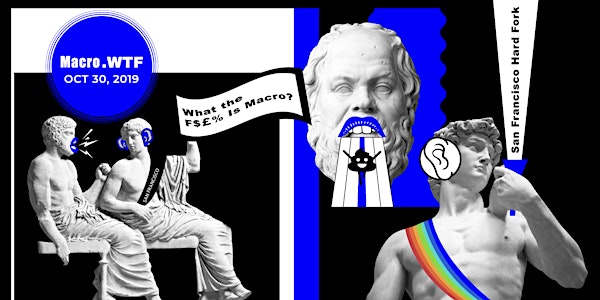 Macro.WTF
An anti-networking network discussion, brought to you by the WTF Collective.
When and where
Location
450 Townsend St 450 Townsend Street San Francisco, CA 94107
About this event
Macro.WTF | Putting Crypto in the Broader Macro Context
Cryptocurrencies don't exist in isolation, but rather in the larger world of macroeconomic trends, geopolitical forces, and sociological reality. In this event, we'll examine where crypto lies in the history of monetary theory, what we can learn from macro studies, and how we will influence the macro world.
About WTF | The Power of Asking
A modern resurrection of the Greek Pnyx (/nɪks/): a supportive space for open, inclusive, informed, and thoughtful exchanges of ideas, for the practice of the ancient art of asking the right questions to move beyond hype and arrive at knowledge.
Previous WTF Event: DeFi.wtf in Osaka, Japan on Oct 7, 2019 (Slides & Video)
Macro.WTF Agenda Working Draft (Updated as of Oct 28)
Macro.WTF will have 2 stages: Main Stage and Lightning Talk
WTF Main Stage (9:30-18:00) agenda is listed below. For panels, panelists are listed in the alphabetical order of last name, * marks moderators.
WTF Lightning Talk (13:00-17:00) is for anyone who would like to share your latest research or insights in a 10-min talk and 5-min QA. Submit your topics here as a comment under the GitHub Issue, or email: ask@defi.wtf. Please submit in the following format: Name, Contact, Title of Talk, Abstract / Summary, links to relevant paper, etc.
Note: due to venue capacity, this event is for registered audience only.