Description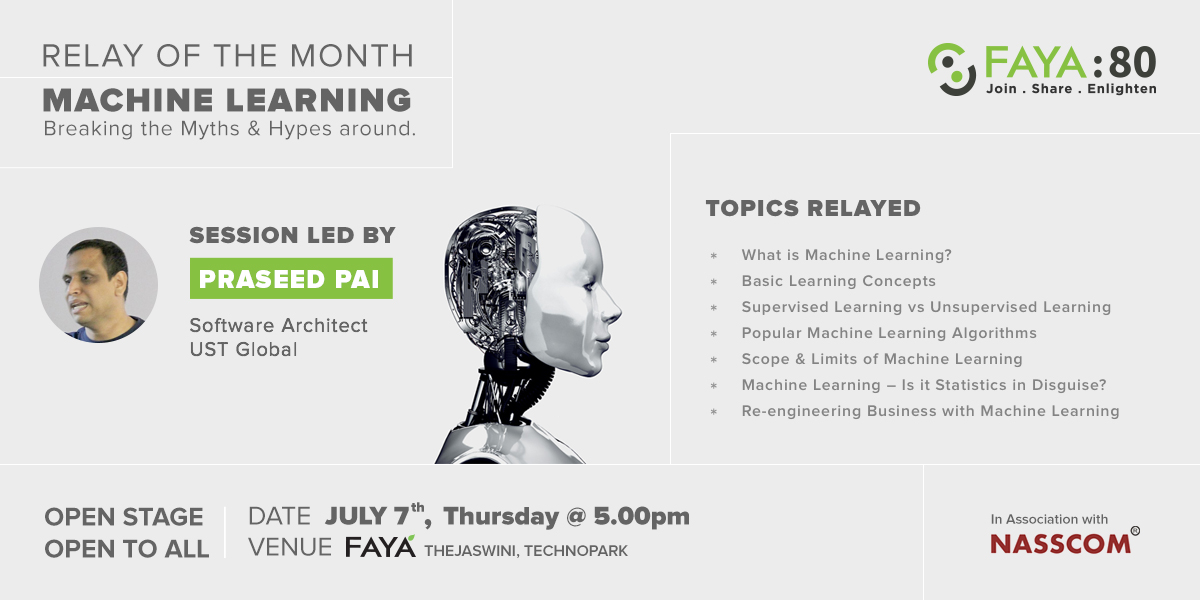 As organizations evolve and embrace technological advances, Machine Learning has become a key currency to gain an advantage over competitors and push business-success. With the big guns of technology like Google, Apple, Amazon, Facebook etc. 'rethinking everything' around Machine Learning, it has transformed the way we do business and is impacting most parts of our lives. Machine learning has given us self-driving cars, speech recognition, effective web search, and a vastly improved understanding of the human genome. It harnesses the power of Pattern Recognition coupled with Computational Learning theory in Artificial Intelligence. Using algorithms that iteratively learn from data, Machine Learning allows computers to find hidden insights without being explicitly programmed where to look.
Want to know more about Machine Learning?? Interested in getting the hints of incorporating it into daily business??
Join us at the July edition of FAYA:80 and Break the Myths & Hypes around Machine Learning!
Topics Covered:
What is Machine Learning?

Basic Learning Concepts

Supervised Learning vs Unsupervised Learning

Popular Machine Learning Algorithms

Scope & Limits of Machine Learning

Machine Learning – Is it Statistics in Disguise?

Re-engineering Business with Machine Learning
Sessions:
Techbites (Speaker: Liju George)
Machine Learning – Breaking the Myths & Hypes around (Speaker: Praseed Pai)
Question Time

: Discussion on the top question raised by the community.
Submit your questions on the following form.
http://goo.gl/forms/daE4bCyVDl
Date & Place
7th July 2016, Thursday - 5pm at Floor of madness, FAYA.
About Speaker
The session will be led by Mr. Praseed Pai. He is a well-known Software Architect working in UST Global. His areas of interest include Enterprise Software Development (using C#/.net/Java), Engineering Software Development (CAD/CAM/C++), Cross Platform C++ Development (Windows/Linux/Mac), Computer Graphics, Computational Finance and Domain specific Programming Languages. He is the author of SLANG open source compiler infrastructure for learning about compilers. Currently, he is co-authoring a book for Packt Publishing on .NET Design Patterns. He has taken about 200 presentations on various technology topics.
About FAYA:80 (Read as FAYA PORT 80)
In this era, technological advances have created a niche for themselves in the IT stratosphere. Newer technologies and related developments are happening at a sky-rocketing pace. Nurturing the power of being empowered in the right technology at the right time is the need of the hour. FAYA:80 provides a platform for the technocrats to keep at par with the latest tools and technologies in the IT industry. It inculcates a culture of community of practise for the technologists whereby they ignite the art of knowledge gaining and knowledge-sharing.

Come on… Push your Limits & Broaden the Horizons of your Knowledge!!!