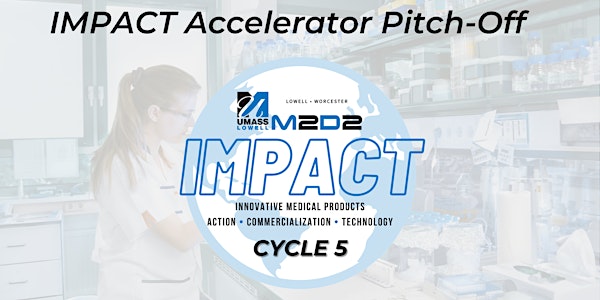 M2D2 IMPACT Cycle 5 Accelerator Pitch-Off
Hear ten medical device startups selected for the IMPACT Accelerator Program pitch their innovation to a panel of industry experts.
When and where
Location
UMass Lowell iHub @ 110 Canal St, 3rd Floor 110 Canal Street Lowell, MA 01852
About this event
Calling all Investors, Medical Device Innovators, Biotech Entrepreneurs, and Life Sciences Industry Professionals:
Join the Massachusetts life sciences community as the startups from the Cycle 5 Cohort pitch their medical device solution to a panel of judges. These startups are working with M2D2 to advance the commercialization of their technology through the IMPACT Accelerator Program, sponsored by a group of stakeholders from medtech organizations.
AGENDA:
4:00 Registration and networking
5:00 Event start/pitches
7:00 Networking (+ Prize announcements)
8:00 Program close
What is IMPACT?
The M2D2 IMPACT program is a 12-week accelerator program that will run for 6 cycles. The program aims to advance early-stage companies looking to reshape the future of healthcare. Selected companies will have the opportunity to engage with our sponsors' specialized research calls to help advance their business.
Each IMPACT Cycle closes with an IMPACT Accelerator Pitch-Off. The startups involved in the current cycle will pitch their technology to a panel of experts and innovators on medical device development.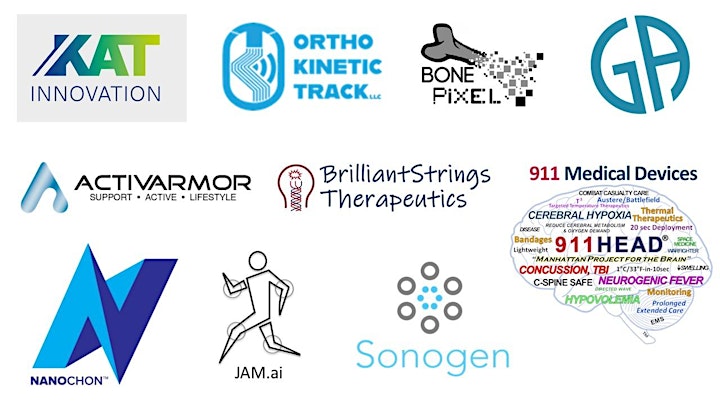 ActivArmor: ActivArmor is launching a digital fabrication system that utilizes the latest 3D scanning and printing technologies with an AI-driven design software to provide patient-specific, custom-fitted casts and splints in waterproof, sanitizable plastics, that allow people to live their active lifestyles while healing.
BonePixel: BonePixel is leveraging existing clinical data for personalized diagnosis and treatment planning of joint injuries using AI and 3D simulation.
BrilliantStrings Therapeutics: BrilliantStrings Therapeutics is developing transformative, direct protein therapies to accelerate the healing of soft connective tissues.
Grace and Able: Grace & Able make joint support that people want to wear: supportive, comfy and stylish. Hand Therapist Designed, Arthritis Patient Approved.
JAM.ai: JAM.ai's wearable technology enables noninvasive capture of joint and muscle loading for use in optimizing sports performance and enhancing recovery.
KAT Innovation: OSTAAT™ is a bone growth device designed to prevent or accelerate healing of hip fractures in people having osteoporosis with or without chronic renal failure.
911 Medical Devices: 911MD wearable platform is a; novel bandage, a thermal therapeutic dressing, and provides for diagnostic and imaging functionality.
Nanochon: Nanochon is commercializing the Chondrograft(TM) implant for treating arthritic cartilage damage in the knee. The device uses a novel nano-polymer and 3D printing to guide real cartilage growth.
OrthoKinetic Track: OrthoKinetic Track is improving Digital Orthopaedic Care using Smart and Connected Sensor System for Tracking Muscle Activity and Joint Kinematics.
Sonogen Medical, Inc.: Sonogen is commercializing an ultrasonic device that delivers optimized bone fracture healing and real-time fracture healing diagnostics.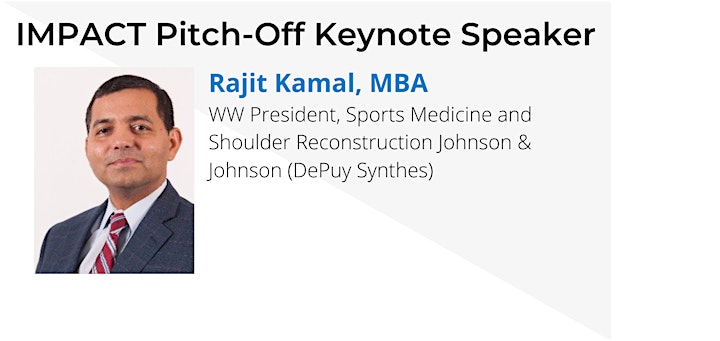 Rajit Kamal is the WW President for Sports Medicine and Shoulder Reconstruction. In this role, Rajit is the global leader of Johnson & Johnson's $1B diversified Sports Medicine and Shoulder Reconstruction business, providing end-to-end leadership from strategy development, portfolio management to commercial execution and has full P&L responsibility. He leads a cross functional leadership team across marketing, R7D, operations, quality, regulatory, clinical and regions (US, EMEA, ASPAC, LATAM) to deliver global platform growth and performance. He sits on the DePuy Synthes Leadership Team (Management board of the ~$9B Orthopedic business of J&J).
Rajit has been with J&J since 2008 and has worked in variety of commercial roles. Rajit is known for his people/leadership skills, strategic thinking, commercial acumen, and collaboration skills.
In his previous role as Vice President Asia Pacific, Rajit lead the $1.5 B Orthopedic business (Digital Surgery, Trauma, Spine, Joint Reconstruction, Sports Medicine) in Asia Pacific with focus on China, Japan, and Australia. Before that, Rajit was Vice President and Global Franchise leader for $1.5B knee reconstruction business for J&J and was responsible for global sales, P&L, global strategy, portfolio, and new product development. Prior to that he was the Senior Director for Strategy and Commercial Initiatives for US DPS, where he led the development of US DPS strategic roadmap and execution of US DPS transformation initiatives. Before that, Rajit led the creation of Business Insights center of excellence for DePuy Synthes Companies and also led strategic projects for the Global Orthopedic Franchise. Before moving into this position, Rajit led the commercial strategy and pricing function for the $3B joint reconstruction business. Rajit was also part of the Knee marketing team where he led the commercial aspects of the ATTUNE® launch – including global deployment in 14 markets, Pricing & Sales Training. Prior to this role, Rajit was with Mitek Sports Medicine business in marketing roles for Early Intervention/OrthoVisc and Access & Advanced Energy Platforms.
Before joining Johnson & Johnson, Rajit worked as a Strategy Consultant for the Boston Consulting Group & Innosight (customer insights & innovation consulting firm). In his consulting career, Rajit specialized in health care and advised senior management of Fortune 500 companies on Go to market strategies, cost benchmarking, product & business model innovation and organizational restructuring. Rajit started his career with Procter & Gamble in manufacturing, supply chain and demand planning.
He holds B.S. in Chemical Engineering with distinction from Indian Institute of Technology, M.S. in Chemical Engineering from Georgia Institute of Technology, M.S. in technology management from Columbia University and an MBA from Harvard Business School.