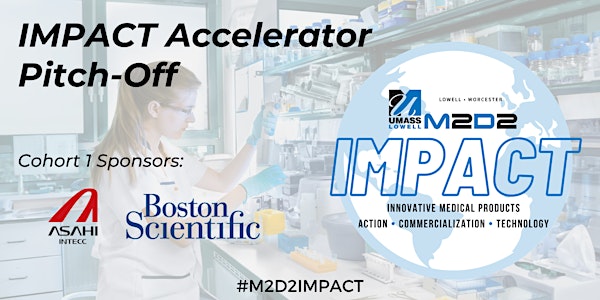 M2D2 IMPACT Accelerator Pitch-Off
Hear ten medical device startups selected for the IMPACT Accelerator Program pitch their innovation to a panel of investors.
When and where
Date and time
Friday, December 17, 2021 · 1 - 3:30pm PST
About this event
Calling all Investors, Medical Device Innovators, Biotech Entrepreneurs, and Life Sciences Industry Professionals:
Join the worldwide life sciences community as the startups from the Cycle 1 Cohort pitch their medical device solution to a panel of judges. These startups have been working with M2D2, Asahi Intecc, and Boston Scientific to advance the commercialization of their innovation through the IMPACT Accelerator Program.
AGENDA
Opening Remarks
"The Importance of Innovation" with Mark Boden of Boston Scientific and Kenny Tran of Asahi Intecc
Startup Pitches + Q&A
Closing Remarks
What is IMPACT?
The M2D2 IMPACT program is a12-week accelerator program that will run for 6 cycles. The program aims to advance early-stage companies looking to reshape the future of healthcare. Selected companies will have the opportunity to engage with our sponsors' specialized research calls to help advance their business.
Meet the Startups: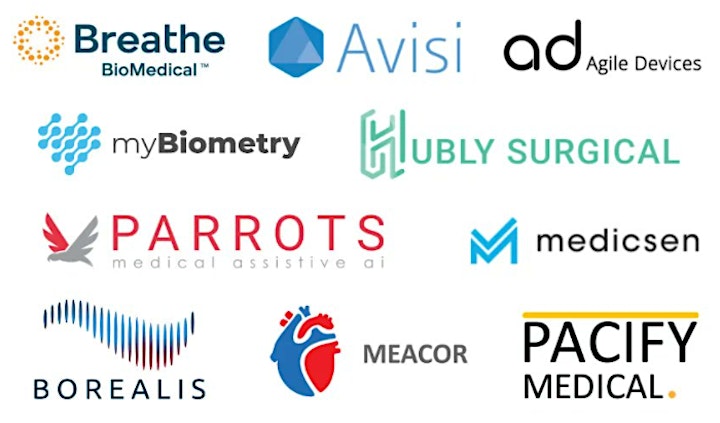 Agile Devices
Microcatheter technology with transformational tip control (distal tip can deflect bi-directionally up to 180 degrees and rotate 360 degrees) that enables a single catheter to accommodate all turn shapes and reduce device exchanges.
Avisi
(VisiPlate) Thin, flexible, biocompatible nanotechnology-enabled ocular implant designed to transform the clinical strategy used for patients suffering from Primary Open Angle Glaucoma (POAG).
Borealis
Cooling catheter that is left within the hematoma cavity following ICH evacuation to rapid cool at the site of injury while avoiding the pitfalls of whole-body cooling approaches.
Breathe Biomedical
Technology platform used to measure Volatile Organic Compounds (COV's) in the lower alveolar portion of exhaled breath to detect diseases, specifically lung cancer.
Hubly Surgical
Advanced intracranial drill designed for safety and ease of use with plunge prevention, catheter guidance, and battery power for use inside and outside of the operating room.
Meacor Inc.
Novel catheter-based anchoring device that would replicate the open-heart standard of care for mitral and tricuspid valve repair.
Medicsen
Needle-free smartpatch for painless drug delivery, the technology increases skin ́s permeability by generating harmless waves to temporarily enlarge the size of natural skin pores.
myBiometry
Novel at-home diagnostic technology that combines digital health, machine learning, and clinical services to create a comprehensive solution for asthma (early detection, symptom reduction, attach prevention).
Pacify Medical
Portable surgical device (skin spray gun) for skin transplantation using autologous (patient's own) skin for the regeneration of the wound, harvests x of donor skin to cover burn up to 30x of the donor area.
Parrots Inc.
Technology for people with mobility and communication challenges. Polly is an inclusive platform using AI and ML to give smart communication and telecare to people with neurological disorders.
Meet the Judges:
Mark Boden - Senior Fellow, Global Technology, Boston Scientific
Mark is a Senior Fellow in Corporate Technology at Boston Scientific. He has been at Boston Scientific for 17 years, working in the fields of Interventional Cardiology, Peripheral Vascular, Urology, Women's Health, and Endoscopy. Prior to Boston Scientific, Mark worked on development and manufacturing of biosensors. He has a dual Ph.D. from UMass Lowell in Polymer Chemistry and Plastics Engineering and specializes in biomaterials, drug/device combination products, and early stage research into disease states. He spent five years as a Technology Scout, identifying new technologies, unmet clinical needs, and evaluating and advising early stage companies.
Current activities include Materials Science Subject Matter Expert, establishing and maintaining University partnerships, and membership on several University and Government Advisory Boards of interest to Boston Scientific, including the, NSF CellMet ERC, the National Academies Roundtable on Biomedical Engineering Materials, and NHLBI SBIR panels.
Tracey Dodenhoff - Principal of Onovo, Inc., Chief Executive Officer, Nurse Approved
With a personal mission to "Help Good People do Great Things with Innovation", Tracey is a Principal of Onovo Inc., a growth acceleration firm focused on smart-scaling strategies for high-impact innovations.
An entrepreneurial leader driven by rapid value creation, Tracey's background encompasses technology entrepreneurship, innovation leadership and venture investing. Tracey has generated millions in revenue and value for clients and as founding executive/entrepreneur for multiple early stage initiatives. Over her career, Tracey has launched and invested in over two dozen startups, and continues to partner with ventures to accelerate the growth of new product initiatives across medical, consumer, software and industrial verticals. Tracey also serves as a consultant to venture funds on investment opportunities in the medical device and software industries.
Tracey currently serves as fractional CEO for Nurse Approved, a platform for incorporating Nurse reviews into the medical device innovation process; fractional COO for PresentCare, whose product Max Retract® addresses the unique needs of high BMI patients in clinical settings; co-founder and CEO of BitSurf, a video/audio based, AI/ML powered workflow platform.
Christina De Mur - GM Cardiology IT, GE Healthcare
Christina is a global healthcare technology executive with a background that integrates clinical experience, product development and healthcare commercialization. Over the course of her career she has developed and deployed 10 electro-medical devices and healthcare IT solutions as the head of R&D and General Manager. She is passionate about solving challenges in healthcare by building/leading teams to leverage technology, systems and solutions. Building teams focused on delivering healthcare has been a constant theme across her 30 years of experience.
She is currently a leader at GE Healthcare responsible for managing and leading strategy, product development and commercialization activities for the Cardiology IT business (with full P/L responsibilities for the $60M+ business).
Christina holds a B.S. in Biomedical Engineering from Boston University and a M.S. in Management from Lesley University.
Kenny Tran - R&D Project Manager, Asahi Intecc USA, Inc.
Kenny Tran is a Business Development Manager for Asahi Intecc USA, an Endovascular solution company. In his current capacity, Kenny specializes in assessing startup technologies for investment, licensing, and acquisition opportunities. Prior to working in business development, Kenny was an Engineer for 8 years spanning across Quality, R&D, and Process Development. Kenny holds a bachelors in Biomedical Engineering and Material Science Engineering from University of California Irvine, and an MBA from Pepperdine University.
About the organizer
M2D2 is an incubator program for early stage medical device and biotech startups, a joint program between University of Massachusetts Lowell and University of Massachusetts Medical School. No affiliation with University of Massachusetts required and no strings attached.
M2D2 is a lifeline for emerging medical device and biotech companies, offering inventors and executives easy, affordable, and coordinated access to world-class researchers and resources at the two UMass campuses.
M2D2 offers wet lab space (shared w/equipment and private) and office space, as well as access to medical, business, engineering and industry experts.