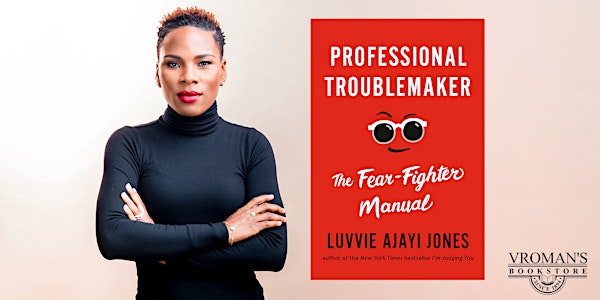 Luvvie Ajayi Jones presents Professional Troublemaker
Vroman's Live presents Luvvie Ajayi Jones, in conversation with KevOnStage, discussing Professional Troublemaker: The Fear-Fighter Manual
Refund Policy
Refunds up to 1 day before event
About this event
Luvvie Ajayi Jones is known for her trademark wit, warmth, and perpetual truth-telling. But even she's been challenged by the enemy of progress known as fear. She was once afraid to call herself a writer, and nearly skipped out on doing a TED talk that changed her life because of imposter syndrome. As she shares in Professional Troublemaker, she's not alone.
We're all afraid. We're afraid of asking for what we want because we're afraid of hearing no. We're afraid of being different, of being too much or not enough. We're afraid of leaving behind the known for the unknown. But in order to do the things that will truly, meaningfully change our lives, we have to become professional troublemakers: people who are committed to not letting fear talk them out of the things they need to do or say to live free.
With humor and honesty, and guided by the influence of her professional troublemaking Nigerian grandmother, Funmilayo Faloyin, Luvvie walks us through what we must get right within ourselves before we can do the things that scare us; how to use our voice for a greater good; and how to put movement to the voice we've been silencing--because truth-telling is a muscle.
The point is not to be fearless, but to know we are afraid and charge forward regardless. It is to recognize that the things we must do are more significant than our fears. This book is about how to live boldly in spite of all the reasons we have to cower. Let's go! (Penguin Life)
This event ticket includes a signed hardcover copy of Professional Troublemaker along with a "Judgey Pop" (while supplies last), as well as online access to the event for your household. You will receive a link and password to attend the Crowdcast event on the afternoon of Tuesday, March 2nd.
Ticket options include in-store pick up, shipped domestically (allow up to 2-3 weeks for delivery), or shipped internationally (allow up to 4-5 weeks for delivery). Books will be mailed to you after the event. Those who choose in-store pick up, will receive an email from us following the event once your book is ready to pick up from Vroman's.
Luvvie Ajayi Jones is an award-winning author, speaker, and podcast host, who thrives at the intersection of comedy, media and justice. She is the author of the New York Times bestseller I'm Judging You: The Do-Better Manual, and her site, AwesomelyLuvvie, is where she covers all things culture with a critical yet humorous lens. She is co-founder of the #SharetheMicNow global movement and runs her own social platform, LuvvNation, which is a safe space in a dumpster fire world.
Kevin Fredericks p/k/a KevOnStage was born on May 1, 1983 in Texas where he grew up in a military family. During that time, with frequent moves and the constant task of making new friends, Kevin honed his comedic skills. Since those formative years, Kevin graduated from college and took various paths professionally, but has since found joy and success in the world of entertainment; in comedy and beyond.
His journey began as he wrote, directed, produced, and acted in plays with his brother and best friend, after which they began making viral comedic videos and traveling the country sharing their funny sets about church life. After losing his 9 to 5, Kevin began to focus on his solo career as a comedian. He performed in comedy clubs and traveled doing stand-up, while also making daily videos, and eventually took social media by storm. This was the catalyst to him being the actor, stand-up comedian, entrepreneur, podcast developer/host, content creator, author, influencer, and filmmaker he is today.
Kevin enjoys his work and strives diligently to build his entertainment empire. Aside from the sheer pleasure he receives from making people laugh, Kevin is also passionate about helping his friends and supporting other artists. He even passes on as much knowledge as he can to others via his Master Class; The Blueprint: How to start, build, or expand, your business using social media.
Kevin can be found on all social media outlets as KevOnStage. And, for more information about his podcasts, merchandise, master class, show dates, booking, and all things KevOnStage, go to www.kevonstage.com
Questions? Email us at email@vromansbookstore.com