About this Event
We are the authority on everything Meetings-related, and our lunch-hour workshops focus on the ins and outs of this industry. We invite Facilitators, Meeting Planners, Retreat Programming Coordinators, Administrative Assistants and everyone in between to get insider insight with a delectable meal!
Lunch & Learn: Improv Techniques for Better Communication and Listening Skills
Have you ever walked away (or hung up) from a conversation wondering, "What did we just agree to?" Or how about, "Hmmm…I really don't think that vendor truly understands our organization's needs."?
And, later at your meeting you find out that your instinct was right…they didn't use the specifications you thought you agreed to? These are just a few examples of what can happen if there is a gap in communication and listening.
In this interactive and fun presentation, you will learn skills that you can use in your business to make sure you say it right and get it right. Effective communication skills—especially listening—lay the groundwork for cohesive business relationships…and successful events!
Learn how to use improvisation skills to connect, collaborate, and truly listen to your association's members, vendors, and clients. Improv skills allow us to be in the present moment to practice reflective listening, while encouraging others to do the same. When we're listening to each other, we are tuned into each other's needs and expectations. Listening as a skill means not having our own agendas to drive conversations that will lead to deeper connections. Join the fun and learn the skills and tools that can be applied to your professional, business, and personal interactions.
Learn the fundamental rules of improv and apply them to diverse business settings—internally and externally.
Apply reflective listening (also known as "Yes, and") to practice empathy and eliminate—or at least reduce—assumptions.
Acquire the art of being in the moment through improv skills.
Learn to have fun while collaborating in a fun and interactive way.
Admission price of $10 includes: a mouth-watering meal from our catering partner Big Delicious Planet, as well as all ticket surcharges.
Purchase your admission by Wednesday, July 24.
Please email bryan@catalystranch.com with any dietary restrictions.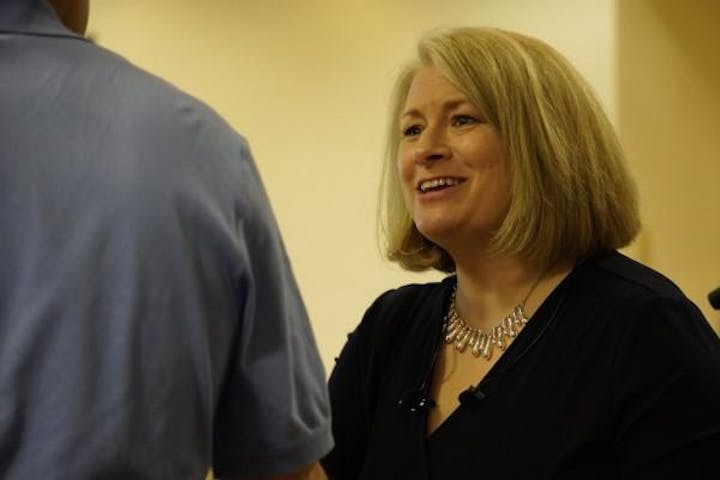 About Our Presenter:
As the Humorous Speaker and Communication Coach, The Second City-trained and First-Ever American Laughing Champion Julie Ostrow teaches organizations and corporate teams to use improv skills to improve Creativity, Communication, Team Building, Problem Solving, and Productivity with their clients and within their organizations. She teaches the benefits of using humor, laughter, and improv in all aspects of our lives.
Having more than 20 years of corporate marketing communications experience including five years with SmithBucklin, the world's largest association management firm, Julie is able to identify the trigger points of miscommunication and low morale in the corporate culture and among team members. By infusing her corporate experience with her humor, laughter, and improv tools, she is able to guide organizations to communication, connection, and creativity. Resulting in re-inspired teams and increased productivity.
Julie conducts her interactive and transformative workshops for corporations, conferences, and professional organizations. Julie's enthusiasm and passionate spirit, combined with her comedic insight, help to make her a warm and engaging presenter and workshop facilitator. Her personal motto, "find the funny," helps her to find humor in everyday moments and in life's seemingly most difficult situations...and she'll help your teams do the same!
Website: www.JulieOstrow.com