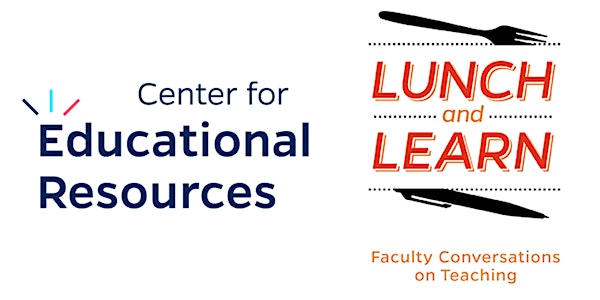 Multiple dates
Lunch & Learn Series: Faculty Conversations on Teaching (2019-2020)
By JHU | Center for Educational Resources
Date and time
October 16, 2019 · 12pm - April 15, 2020 · 1:30pm EDT
Location
3400 N Charles St Johns Hopkins University MSE Library, Q-Level, Garrett Room (CER Office) Baltimore, MD 21218
Description
The Johns Hopkins University Center for Educational Resources is pleased to offer its Lunch & Learn Series: Faculty Conversations on Teaching to faculty at the Krieger School of Arts & Sciences and the Whiting School of Engineering. Lunch will be provided as we welcome faculty to share their experiences or expertise in various teaching topics. Presentations will be short and conversation is encouraged!

Wednesday, October 16, 2019
Teaching a Multi-Disciplinary Course

Steve Marra, Associate Teaching Professor, Mechanical Engineering, WSE

Susan Weiss, Associate Professor, Musicology, Peabody Conservatory


Nathan Scott, Associate Teaching Professor, Mechanical Engineering, WSE

Wednesday, December 11, 2019
Accommodating Students with Disabilities

Alison Papadakis, Associate Teaching Professor, Psychological & Brain Sciences; Director, Clinical Psychological Studies, KSAS


Terri Massie-Burrell, Director, Student Disability Services, Homewood

Thursday, February 20, 2020
Faculty Discussions on Teaching International Students

Yiying Xiong, Assistant Professor, Counseling & Human Development, SOE

Julia Yarmolinskaya, Senior Lecturer, Cognitive Science, KSAS

Wednesday, April 15, 2020
Using Pre-lectures to Free Class Time for Student Engagement

Angus Burgin, Associate Professor, History, KSAS

Sara More, Associate Teaching Professor and Director of Gateway Computing, WSE




This event is free. Please register for any or all sessions above.
---
FAQs
Do I have to bring my printed ticket to the event?
No. You will sign-in upon arrival.
Is lunch provided?

Yes! Salad, wraps/sandwiches, chips, cookies and tea/water will be available at 11:45AM.
Where is the event located?

The event will be held in the CER office--located on the quad level of the MSE Library, #53 on the campus map.

Who do I contact with questions/concerns?
Please contact Lacey Henry, Events Coordinator, Lacey.Henry@jhu.edu.

About the organizer
The CER provides a variety of programs and services for faculty, graduate students and postdoctoral fellows in the John Hopkins University's Krieger School of Arts and Sciences and the Whiting School of Engineering including teaching resources, educational technology and tools, and a number of instruction-related publications. CER staff members meet with faculty to discuss course enhancements, manage the Technology Fellowship program, collaborate with faculty on grant projects, and offer structured opportunities for faculty to learn about educational innovations. CER also manages the University's Teaching Academy.  To request a consultation with a CER staff member or to get more information about our services, please email cerweb@jhu.edu.