Join us for an hour of fun discussion & networking among fellow Agilists ft. Steve Martin #csm #cspo #acsm #leadingsafe #bootcamp #workshop
About this event
This month's guest speaker is Dr. Steven Martin, Agile Coach and Certified Scrum Trainer, and hosted by Hyperdrive Agile's founder & CEO, Stacey Louie.
How do companies achieve and exceed their product goals? By utilizing product roadmaps to guide the way.
When done well, product roadmaps are an incredibly powerful tool that help teams, companies, and customers (both internal and external) focus on the highest-valued strategic needs, leading to greater excitement about a product or service, and ultimately, greater customer satisfaction.
In this talk, Steve will share client stories and his insider tips on:
Characteristics of impactful roadmaps
How roadmaps can be the central link to more successful product development
Different formats of roadmaps and when to use each kind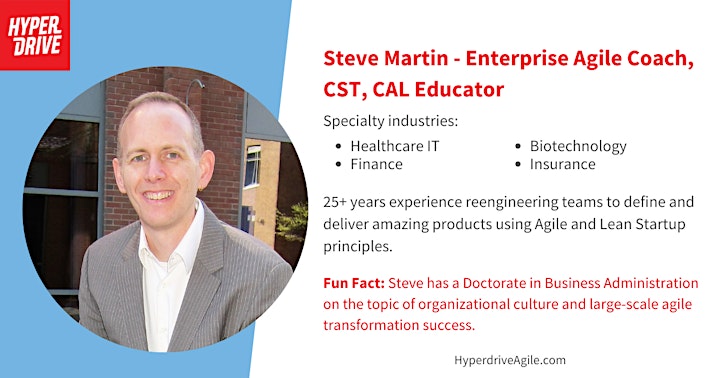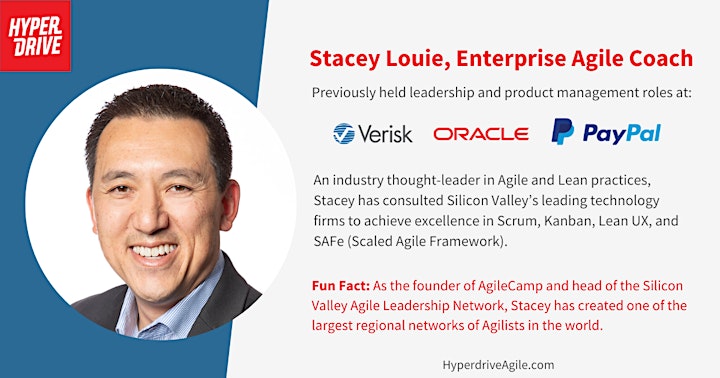 Organizer of Lunch & Learn - Networking Event w/ Hyperdrive Agile
From Fortune 500 companies to new start-ups, Hyperdrive's team of world-class consultants and trainers help guide and support enterprise Agile transformations of every scale.
Transform your Agile practice with Hyperdrive's five-star rated training opportunities, including public and private corporate training sessions:
Trusted by Industry Leaders: Including Visa, Exxon Mobil, Cisco, LinkedIn, Docusign, Roche, PayPal and Humana.
Trusted by Change Agents: Many of our advisors are Silicon Valley tech executives with real-world, "hands-on" experience in leading and orchestrating Agile transformations.
Trusted by the Community: Co-founded the largest Scrum meetup in North America; created the largest independent Agile conference series in the world (AgileCamp); partnered with Scrum Alliance to organize the North American Agile Coaches Retreat.

Whether you are just getting started with Agile development or learning how to apply Agile practices to an entire enterprise, Hyperdrive's hands-on experience will help your organization reach its highest potential.
Expertise in Agile & Lean including: Agile coaching, Agile transformation and Agile training
Scrum Alliance certified five-star rated courses
World-class instructors from Fortune 500 companies
Live-online course offerings in various timezones
Earn 16 SEUs/PDUs
Are you ready to put your business into hyperdrive? Contact us at info@hyperdriveagile.com or visit hyperdriveagile.com.