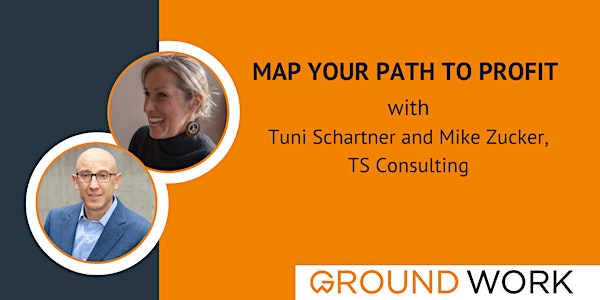 LUNCH & LEARN: Map Your Path to Profit
This workshop is a must if you are a small business owner or solopreneur ready to grow your business but not sure where to start.
When and where
Location
Groundwork 1213 Purchase Street New Bedford, MA 02740
About this event
As business owners, we often get stuck putting out daily fires and lose track of the activities that drive growth. Tuni and Mike will guide you through a simple process to create a realistic growth plan that works for you. This is not a lecture! Prepare to participate and leave with actionable steps to grow your business and achieve profit.
In this interactive session, you will learn to develop revenue goals and key performance indicators that will inform your marketing and sales strategy. You will also learn how to review and adjust your plan regularly so you stay on track, even when things aren't going as planned.
Lunch will be provided at this event and space is limited to ensure time for discussion. Be sure to reserve your spot!
About TS Consulting
TS Consulting is led by Tuni Schartner and Mike Zucker. Tuni and Mike enjoy meeting entrepreneurs where they are at to identify strengths and passions, weaknesses and pain points, then develop realistic growth strategies that will succeed.
Tuni Schartner co-founded The Hive RI, Southern RI's first coworking space, which she continues to run, as well as the community based economic development initiative at the 85k sq. ft. historic Mill at Lafayette. She also served as the inaugural director of Innovate Newport and Executive Director of District Hall/Venture Cafe Providence and is a founding mentor of RI Hub's Venture Mentoring Service. Tuni has worked with and supported growth in over two-thousand small businesses.
Mike Zucker is an accomplished internal entrepreneur who has created, built, optimized, led teams, and grown value. He was most recently an Executive Team leader for Samsonite's $1.3B US business, composed of key stakeholders and C level leaders. Mike made a career change in 2020 and is co-founder of BizNav Partners, a business transformation consultancy based in Barrington, RI that provides clients with the navigational tools and support to find success in rapidly shifting and uncertain times.