Luminescence: Sound Bath and Circle of Light
Description
Take a trip to the Light Side…


This is a special Luminescence experience unlike any previous one. We will go far and deep to closeout 2017 and to prepare you for the next chapter of your life. [Limited to the first 15 People]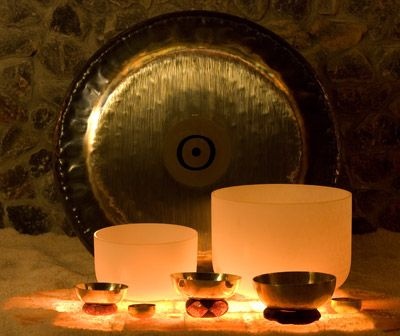 What are the learnings you are ready to acknowledge and take away from this past year?


What awaits you in 2018?


This is an intimate evening of sacred ceremony, authentic heart-sharing, clearing, and transformation that includes genuine speaking and listening from the heart, mahal energy (

www.mahalislove.com

), and a powerful journey through sound, taking Luminescence's previous incarnations into a heightened form of rawness, closeness, and journey into the depths of the Divine Mystery.



Come as your most authentic, true self.
Fearless. Full of grace.
Creative potential ready to come undone.
You're the one we've all been waiting for.




Settle into your perfection - this evening will verify and affirm all that is perfectly unfolding for you - and as you - in the new year.


If you're ready to be seen and to acknowledge your soul's truest calling, this is a night you will not want to miss. Also, depending on the number of participants in attendance and the flow of the evening, we may give or take an extra half hour, all the while trusting the divine timing of this evening's unfoldment. Join us!
*****************************************
WHAT TO BRING:
- A journal
- Writing instrument
- 1-2 sacred items or things that have special meaning for you or that carry the intention you would like carried into the new year, to be placed on our communal altar.
- Dress comfortably as we will be sitting on the floor and at some point in the night, lying down as well.
*****************************************
Liza F. Camba (Sat-Akal) is a Personal Success Coach, Teacher, Modern Day Priestess, Holistic Healing Practitioner, Artist, Spiritual Activist, and Producer of Luminescence. Sat-Akal supports highly creative individuals to live their "Sat Nam" (Truth) and to thrive while living out their life mission through one-on-one coaching, powerful 1:1 transformation sessions, kundalini yoga, spiritual warrior trainings, sacred community gatherings, and by producing events and workshops that educate, inspire, and elevate! She works strongly with Mahal Energy (mahalislove.com) and the Law of Creativity and Success to support people on their soul journey. You can learn more about her overall work at TheSacredYes.com or contact her directly at lizacambaservices@gmail.com
Organizer of Luminescence: Sound Bath and Circle of Light
About the Producer: Liza F. Camba (Sat-Akal) is a Teacher, Artist, Professional Coach, and Spiritual Activist. LUMINESCENCE is a quarterly event that shares the power of sound healing and creative expression, bringing together an ensemble of dedicated, locally-based sound healers and visionaries while creating an inspiring atmosphere of profound self-love, connection, rest, and healing. Liza/Sat-Akal supports highly motivated creatives to activate their soul's true purpose with one-on-one coaching and co-creates events and workshops that educate, inspire, and elevate! More information about her work can be found at TheSacredYes.com and Mahalislove.com. Join us every season for an awe-inspiring LUMINESCENCE at The York Manor; and check us out for "Monthly Luminescence Unplugged" events where we explore healing, ancient teachings, and more, with sound. Join the Newsletter for stories, updates, and discounts!
To contact Liza/Sat-Akal, you can call 323-813-7YES or email her at Lizacambaservices@gmail.com