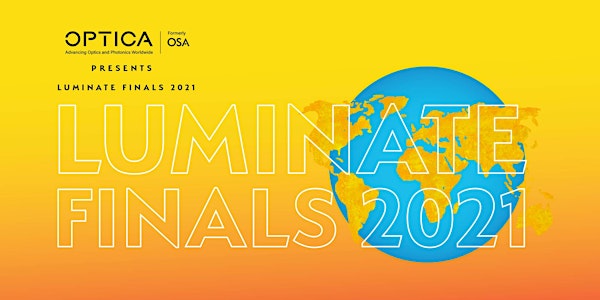 Luminate Finals 2021
Join us for Luminate Finals 2021 to see groundbreaking technologies with optics, photonics, and imaging!
About this event
Optica (formerly OSA) presents Luminate Finals 2021.
Watch as 10 startups from around the world introduce emerging optics-, photonics-, and imaging-enabled technologies destined to bring new capabilities to a wide range of industries.
See them make the pitch for up to $2 million in follow-on funding from the Empire State Development's Finger Lakes Forward initiative.
Hear a lively panel discussion on diversity and inclusion in entrepreneurship with distinguished women in science and investment.
Vote for your favorite startup to help them bring home the Audience Choice Award and $10,000.
Stay after the event to hear how startups can apply to the Luminate accelerator to gain access to funding, mentors, a vast OPI network, and comprehensive support.
Luminate Finals 2021 is a virtual event. A link to join will be shared with all registrants via email prior to event start time.
The Startups of Cohort 4
2EyesVision (Madrid, Spain)
Andluca Technologies (Princeton, NJ)
Dynocardia Inc. (Cambridge, MA)
Infrascreen (Neuchatel, Switzerland)
Layer Metrics Inc. (Wilmington, DE)
Mesodyne (Somerville, MA)
Momentum Optics (Longmont, CO)
One Silicon Chip Photonics (OSCP) (Montreal, Canada)
Owl Autonomous Imaging (Rochester, NY)
PreAct Technologies (Portland, OR)
Panelists
Dr. Susan Houde-Walter received her doctorate at the Institute of Optics, University of Rochester, where she subsequently joined the faculty and earned tenure as Professor of Optics. In 2005, Dr. Houde-Walter left the University to run LaserMaxDefense, a women-owned small business that she co-founded, to manufacture laser systems for government customers. Dr.Houde-Walter is inventor/co-inventor on 26 patents, and has published 100+ papers and invited talks on optoelectronic design and optical materials.
Dr. Manjari Chandran-Ramesh is a Deep-Tech & Software Venture Investor at IP Group plc, where she also leads the Quantum Technology portfolio. She takes an active role as a non-executive director in a number of software companies (machine learning, AI, and robotics) and has over a decade of experience in commercializing deep-tech intellectual property. Dr. Chandran-Ramesh runs the Investment Accelerator in Quantum Technologies as the exclusive partner of Innovate UK. In 2020, she was named one of the top 5 investors as part of a broader Top 100 Asian Stars in UK Tech list.
Marcia Lesky is the Senior Director for Diversity, Inclusion, & Volunteer Cultivation at Optica (formerly OSA), where she works to cultivate a diverse and dynamic pool of volunteers and members, and acts as a critical liaison between OSA's business units, its membership and the broader optics and photonics community.
Leslie Kimerling is the co-founder and CEO of Double Helix Optics (DHO), a 3D computational imaging company commercializing Nobel Prize winning nanoscale precision 3D optics technology, and winner of the 2018 Luminate competition. DHO's technology provides single shot extended depth (z) range imaging without loss in resolution. Kimerling has extensive experience in launching companies and bringing product from concept to market. She has held numerous C-level management roles and was the founder of Isis Partners advisory firm.