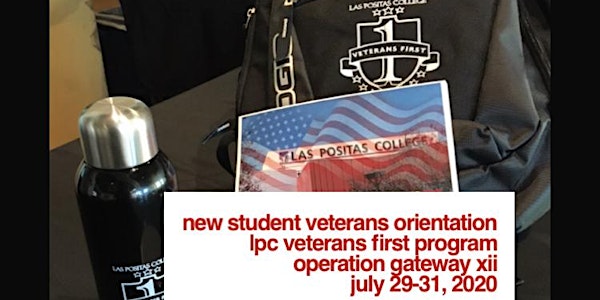 LPC Veterans First Program - Operation Gateway XII for New Student Veterans
12th Annual Operation Gateway - online new student veterans orientation. Excellent opportunity to connect with awesome resources at LPC.
By Veterans First Program & Student Veterans Organization at Las Positas College
Date and time
Starts on Wednesday, July 29, 2020 · 9am PDT
About this event
We have reserved a space for our eligible first year student veterans at our 12th Annual Operation Gateway new student veterans orientation at Las Positas College (LPC). It will be held solely online in a virtual conference format - Wednesday, July 29, Thursday, July 30, and Friday, July 31, 2020.
To be eligible, you must meet this criteria:
1. New student at LPC: student veterans who enrolled at LPC for the following terms are eligible to sign-up: Fall 2019, Spring 2020, Summer 2020, or Fall 2020.
2. Have never attended past Operation Gateway sessions.
3. You must be registered in a minimum of 6 units for the Fall 2020 semester.
4. Must be a student veteran, active duty, reservist/guard, and/or dependent/spouse of a veteran.
Important: To be eligible for a stipend to be used at the LPC Bookstore, you MUST attend all the mandatory sessions/workshops offered at Operation Gateway XII.
This special 3 day transitional orientation is geared to empower student veterans, dependents/spouses, and reservists with resources to ensure academic success at LPC. We will connect you with resources at Las Positas College as well as support from members of local veterans service organizations.
"We are proud to offer this three-day orientation that will be dedicated to in-depth education and career planning, classroom expectations, finance and benefits information, campus life, community resources and veteran support services," said Veterans First Coordinator Todd Steffan. "Operation Gateway" is also a great opportunity for veterans to experience firsthand the community and camaraderie at Las Positas College."
Questions about this event, please send an email to lpcveteransfirst@laspositascollege.edu (include your name and student ID).
Thank you!