Description
Lu'au Agenda
6:00 to 7:00pm: Cocktails, Mingle, Silent Auction and 1-2 dances as a pre-cursor to the main floor show.
7:00 to 8:00pm: Full Buffet Dinner - Polynesians love to eat and there will be a wide variety of dishes for you to taste. *See our menu below
8:00 to 9:30pm: Polynesian Floor Show (approx. 8 to 10 dances w/the grand finale being a traditional fire dancer).
9:30 to 9:45pm: Organizers will share their gratitude and announce the winners of the silent auction.
9:45pm to Midnight: Music & Dancing (last call at 11pm).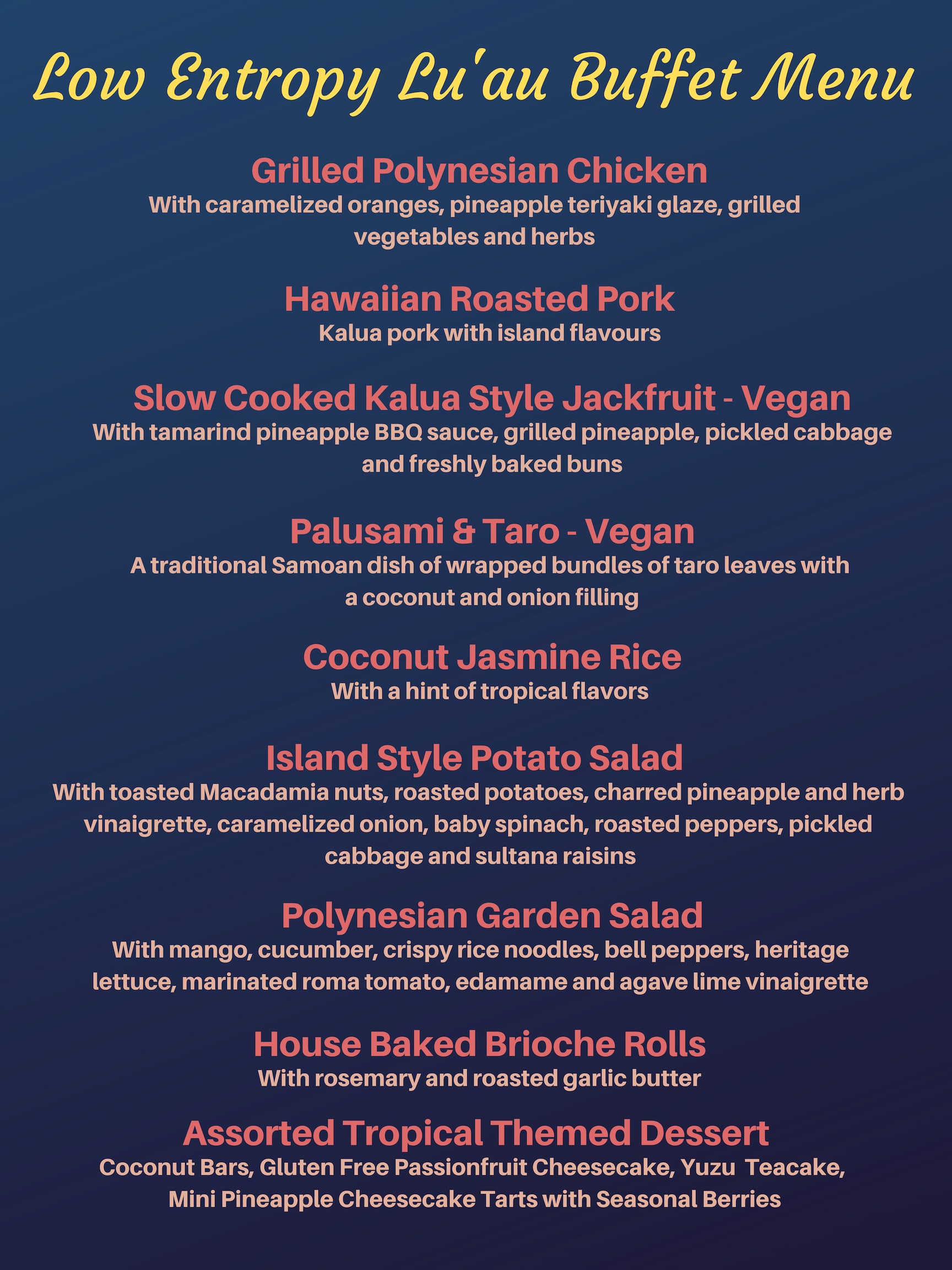 ---
The purpose of the Low Entropy Lu'au
Help the youth in the Tri-Cities find a sense of belonging and join Low Entropy in our first ever annual Lu'au fundraiser, exploring the Polynesian Culture in this family orientated event which embodies Low Entropy's core values of connecting humanity as a Global family where no one gets left behind.
Many of our youth are left alone to face a world of judgement and criticism. This pressure often leads our youth to isolate themselves, as a result they feel lost and confused. Often this sense of loneliness, fear and isolation leads into anxiety, depression and other mental health issues. To combat these issues, Low Entropy offers youth programs that act as preventative measures to the mental health issues that run rampant in our nation, province, communities, and right here in our own Tri-Cities communities.
Low Entropy's Youth Empowering Youth (YEY) program aims to eliminate the stigma around mental health. This is accomplished by our program's platforms which make it okay for our youth to talk about their feelings and emotions; by doing so, YEY provides space for youth to feel confident and safe as our volunteer facilitators encourage youth to be open, honest and real with themselves during lesson plans and activities.
Based on the success of our youth program to date, YEY aims to facilitate ten additional youth programs and serve a minimum of 100 youth in the Tri-Cities this 2019/2020 calendar year. Low Entropy is organizing its first ever annual Lu'au to raise funds that will move our programs forward so that we can reach our goal of helping 100 youth in the Tri-City area by Summer 2020.
Our Lu'au will offer a full dinner buffet with traditional Polynesian food and a 1.5-hour floor show by The Paul Tavai-Latta Polynesian Dancers & Co (est 1971) & :"TAVAI'S POLYNESIA" The grand finale will feature a Fire Dancer; music and dancing will follow to wrap up the night's events. A Lu'au was a natural choice to showcase the alignment between Low Entropy's YEY program and the Polynesian Culture's embodiment of how a family culture is the core component of any organization. Low Entropy is a Global Family united in compassion, respect & love.
Join our family for our first annual Lu'au on May 4th, 2019 and help make a difference in the lives of our youth and Tri-Cities community.