Description
Make 2016 the year of Love and making your dreams come true.
Dear Smart, Professional Woman:
Do you secretly dream about being in a meaningful, lasting, fulfilling relationship? One that feels easy and harmonious... and you are in a state of joie de vivre? You feel safe, vulnerable, and deeply connected... and are able to experience true intimacy.
But somehow... you find yourself in the same exhausting, painful relationship story.
Maybe you're thinking…
"If I'm so smart and successful, how come I'm still single??"
"I've gone on 50 first dates, and am sick of the dating game!"
"I know I want to find a partner, but I'm beat. I don't want to struggle anymore! Maybe I should just give up..."
"I've done all the inner work! I know my relationship problems can't be solved by a therapist… maybe it's something deeper within me?"
If you relate with the above, and are feeling stuck, anxious or worn out...
Then you are ready to break through your old relationship patterns, and learn a new, holistic way of attracting joyful & deeply connected love into your life!
In this experiential, intimate and insight-filled workshop you will learn...
5 Practical Steps for Finding & Keeping 'the One'
Your HIDDEN barriers in finding & cultivating true love
A Powerful Self Love tool for becoming magnetic to love
3 Mistakes smart, successful women make that REPEL men & how to avoid them
A practical technique to restore your masculine & feminine balance
Feng Shui principles to invite love into your life
Secrets to to making the online dating process joyful, authentic and

effective
Bonus: Learn a simple trick to make your online profile stand out!
Discover how the universe is actually conspiring to bring you true love.
Women loved the workshop and have come out inspired!! Here are some testimonials below:
"I wanted to let you know how much I appreciated your workshop. To be totally honest, I was so scared to come in (I almost didn't - it's why I was late...) because I was worried talking about it would make me feel worse.

You turned what I thought would undoubtedly be a painful experience into something super powerful and transformative.

Thank you so much for the work that you do!"

Rachel

S, NYC
"I loved Sarika's Soulmate Through Synchronicity workshop! It was such a safe venue where I could learn, share and connect with other women who share similar intentions around love and growth. Sarika is such a warm and open heart and has such a gentle, yet strong presence to help guide her students' growth. Her own journey in life and love, and her willingness to share it, provided an ideal backdrop for us to learn from each other. The workshop was the beginning of a beautiful process of discovery that I am so excited to continue one-on-one coaching with Sarika." Lauren B, San Francisco
"As a participant in a work shop by Sarika Jain, I found her to be very passionate about helping people find Love. She speaks from her own practically cultivated knowledge and life which resonates very quickly in an enlightening way. Finding / sustaining love is a natural outcome of taking deliberate steps towards self-empowerment is what I took away from her coaching. Hope and possibility seem right within reach!"

Lotika

G, New York City
Note: Early sign-up recommended, as it gets sold out every time! Refreshments and light snacks will be served.
Organizer of Love through Synchronicity: Attract Healthy, Joyful Relationships Into Your Life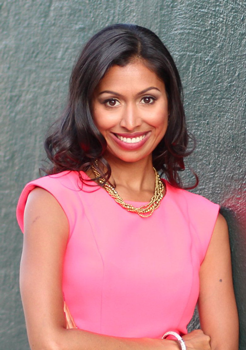 Sarika Jain is a Love & Relationship Coach for smart, successful professionals. She guides people in breaking through their old relationship patterns and learning new skills to attract and create true love in an authentic, holistic way.
Sarika was working in the corporate world, and began offering dating coaching in 2009. After getting engaged, and then experiencing a break-up, she was spiraled into despair. She then underwent a personal transformation and 3 months later, she met her husband!
She has been called a "Love Sorceress" by her clients, and is supported in a joyful and conscious relationship with her husband, Krishan Patel, in New York City. They have a one year old daughter who brings endless joy to their relationship.
Sarika is known for her deep listening, strong intuition and highly personalized approach, leading to long-lasting results. 
"Love flows in the direction of least resistance" ~ Sarika