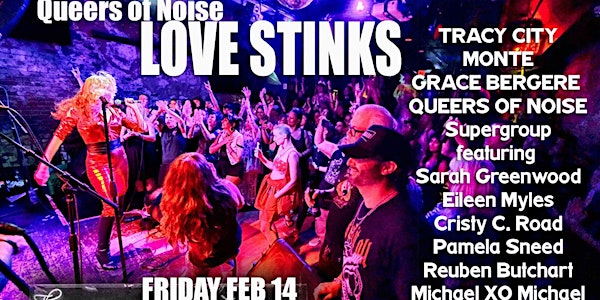 Performers
Tracy City, Monte, Grace Bergere, Queers of Noise
Location
The Bowery Electric
327 Bowery
New York, NY 10003
Queers of Noise present: LOVE STINKS!
About this event
Katrina del Mar and Wendigo Productions are excited to announce the electrifying lineup for "Queers of Noise: LOVE STINKS" the only East Village live music-based queer "grrrls to the front" Valentine's Day party, on Friday February 14th 7:30 to 11pm at the Bowery Electric. Inspired by parties like RocknRoll Fag Bar, Meow Mix and Squeezebox, by bands like Tribe 8 and The Runaways, by films like Times Square, this defiant and celebratory concert's lineup features mostly female-fronted bands with trans, dyke, and straight allies, including: Tracy City, Monte, Grace Bergere and Queers of Noise Supergroup: fronted by very special guests.
Queer love can be complicated. For all the shallow screentime spent glazing your eyes bending your neck over _personals Lex / grindr /tindr / her/ okCupid it's time to balance it out, give your hard candy life a chance to crack open and gush. Open your depth of field and bang your head, riot grrrls to the front, ms lonelyhearts, Join us Friday February 14th, join us for a live music night of punk, riot grrrl, and female-led rock bands!
Tracy City
Tracy City is a gang of salty broads revving the engines of garage rock by way of New York City no-wave queercore. Formed by underground film director Katrina del Mar (vocals), with Monica Falcone (guitar, vocals) Genny Slag (drums, vocals) and Liz Velic (bass), the band has just released their first single, LOVE, "A pulsing mix of '80s goth a la Siouxie, L7-style thrashing drums and guitar, and del Mar's painstaking wail that's in line with Exene's, the single is a 'jaded — in other words, realistic — perspective' about relationships, Del Mar explains." Tracy City is both a fictional band in an experimental feature film screenplay, and also a very real trash rock lesbian presence in present day hyper-gentrified New York City. Think Bush Tetras meet the Pandoras by way of Gary Numan. "Tracy City is equal parts New York no wave and trashy B-movie. Think: Teenage Jesus and The Jerks or Magazine, if they were fronted by The Fabulous Stains or chicks from Jubilee, and directed by Russ Meyer or Ed Wood." -Alex Weiss, Oyster Magazine
Monte
Monte is a Hard Rock band from New York City fronted by guitarist and vocalist Caitlin Montclare. They seamlessly blend hard rock tones and gritty vocals with melodic guitar riffs and catchy hooks that are both original and relatable. MONTE just released a Christmas Album featuring an original song called "Merry Xmas (It's Over)" along with a video. The album was produced, tracked and recorded by Montclare and drummer and drum maker, Ismael Baiz (Maelo Drums) in his studio at Latin Experimental Records LLC with their new bassist Meghan Rose. They will be recording their first full-length this Winter.
Grace Bergere
Grace Bergere is a singer songwriter born and raised in NYC. She started showcasing her songs at open mics at 15 and grew up in the east village music scene. Her songs are haunting and raw, speaking to heartbreak and addiction. Her bandmates are John Hamilton on bass, Eric Seftel on drums, and Richard Dev Greene on guitar. "when i first heard grace the hair on my arms stood up and i was frozen in time, held captive by the deep quality, grit and painful beauty of her voice. I could tell right away that it came from a real place and i was immediately captivated by her haunting, delicate music and her ability to relate it in a wholly unpretentious way. It was mesmerizing. As a performer and a person, this girl Grace is the genuine article." -ezra arrow kire
Queers of Noise SuperGroup
Seasoned NYC musicians led by Sarah Greenwood GSX Alicia Godsberg (guitar), Avi Burn (bass), Betsy Todd (backing vocals), Kiki Barrera (drums), Monica Falcone (guitar), Noa DeSimone (keys), Sarah Greenwood (guitar)and very special guests: Pamela Sneed, Eileen Myles, Shomi Noise, Michael Love Michael, Reuben Butchart, Grant Wall and MORE TBA.