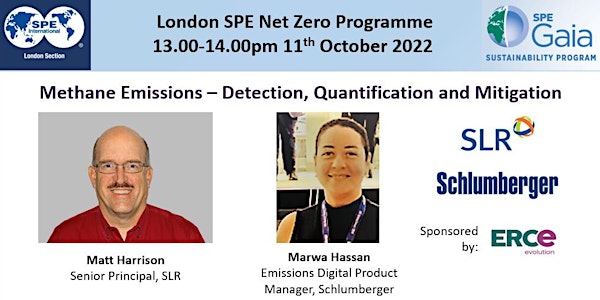 London SPE Net Zero Gaia Event: Methane Emissions
Presentations with Q&A on the subject of methane emissions from the oil and gas industry - how to detect, quantify and mitigate them.
About this event
The London SPE Net Zero Gaia committee, with thanks to our sponsor ERC Evolution, is excited to bring you this lunch and learn. For those with an interest in how the oil and gas industry can detect, quantify and mitigate methane emissions, this is the webinar for you.
Methane is a potent greenhouse gas, with a 25-times greater climate impact over a 100-year period than CO2, and 80-times greater over a 20-year period. Given the high short-term impact of methane on the climate, removing methane emissions would provide significant gains in meeting 2050 Net Zero targets. The Fossil Fuel sector is a major source of methane emissions to the atmosphere alongside agriculture. It is therefore critical that the Oil and Gas industry plays its role in addressing methane emissions.
We have two excellent speakers to help us better understand this key area:
• Matt Harrison from SLR will discuss the world of methane emissions inventories and reductions efforts.
• Marwa Hassan from Schlumberger will explain how digital systems can be used to effectively manage methane emissions.
The event is virtual and will be held Tuesday 11th October via Zoom from 13.00 to 14.00 UK (BST)
Registration is required but it is free to attend.
______________________________
Biographies
Mr. Harrison began his career with Exxon in refinery and chemical operations, including management roles in Exxon's Major Projects group. As a Senior Principal at SLR, Matt manages technical services for a variety of energy industry clients. He is responsible for teams that provide GHG emissions inventory and protocol development, field research, regulatory compliance, and emission reduction strategies for public and private sector clients. His work on GHG and methane spans several decades, and includes published and peer reviewed work on national emission measurements and method analysis. His teams have also written many strategic documents for the industry, including the Methane Guiding Principles Best Practices, the protocol of the ONE Future group, the protocols for GTI Veritas, and the protocols for Cheniere's Quantification, Monitoring, Reporting, and Verification (QMRV) program. His experience includes executive level positions at several companies.
Marwa Hassan is the Digital Product Manager for Schlumberger Emissions Business "SEES", based in London, UK and holds MSc in Nuclear Engineering. Marwa's experience is defining, delivering, and communicating digital solutions around methane and flare management.
Prior to her current role, Marwa held various positions in the USA, the Middle East & Europe, focusing on Digital Oilfield & Integrated Operation implementation.
Before joining Schlumberger, Marwa spent three years as a Nuclear Engineer in Egypt's Second Research Reactor and lecturer at Alexandria University.
To date, Marwa has delivered more than 200 courses and presentations globally. Her latest paper on Digitalization was presented in JAPT (Japan Association for Petroleum Technology, 2019 Vol. 84, No. 6) with the title from digital Oilfield to operational excellence.