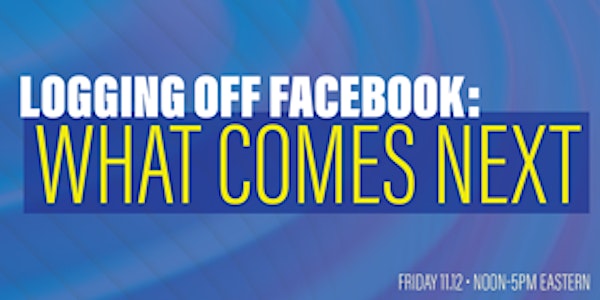 Logging Off Facebook: What Comes Next?
Event on what is next for technologists, policy makers, and organizers who are looking to hold Facebook accountable & find alternatives.
Refund Policy
Contact the organizer to request a refund.
Eventbrite's fee is nonrefundable.
About this event
A half-day unconference for technologists who are making alternatives to Facebook; policy makers with ideas about how to fix, regulate and/or break-up Facebook; and organizers looking for answers that address Facebook's central and toxic role in civic life.
November 12, noon-5pm Eastern, 9am - 2pm Pacific, Online in QiQoChat
Hosted by Kaliya Young and Micah L. Sifry and organized by Planetwork
Our goal is to create space to talk about what comes next after #TheFacebookLogout.
The agenda will be co-created by all attendees in the first hour of the event.
Format: Open Space Technology
Open Space Technology is a facilitated method for co-creating an agenda in real time at the beginning of a conference. All participants are welcome to call a session in the opening circle. Sessions can be discussions about critical questions, presentations, requests for feedback on a paper or proposal, demo's of tools or other creative forms.
There are no keynotes or panels, so it's about connecting with others, and sharing information about ideas, projects and collaboration.
Each room in the virtual venue will have a space to take notes and track outcomes from the event. Each person who attends will get a copy of all the notes from the sessions which can support organizing and coordination around next steps.
The Hosts:
Kaliya Young also known as the Identity Woman for her work on user-centric digital identity, a keystone tool needed for migration off of Facebook. Since 2005 she has convened the Internet Identity Workshop that uses Open Space Technology. She also founded Unconference.net to work with organizations and communities helping them design and facilitate interactive events.
Micah L. Sifry is a writer and organizer who focuses on the intersection of politics, tech and civic life. He was the co-founder of Civic Hall and the longtime curator of Personal Democracy Forum, and currently publishes a weekly newsletter called The Connector while he finishes work on his first novel.
Co-Convening Participants:
Ankit Bhatia, Sapien
John Bonifaz, Free Speech for People
Divya Siddarth, RadicalXChange Foundation
Charlotte Slaiman, Public Knowledge
James Slezak, Swayable
Astra Taylor, WhatIsDemocracy
Danielle Tomson, Columbia School of Journalism
Becky Chao, Anti-Monopoly Fund, Economic Security Project
Evan Greer, Fight for the Future
Justin Hendrix, Editor, TechPolicy Press
Johannes Ernst, IndieComputing
Jim Fournier, Tru.net
Eli Pariser, New_ Public
Claire Potter, Public Seminar
Douglas Rushkoff, author
Adam Lake, Mosaic Social
Bob Wyman, independent
Elana Levin and Charles Lenchner, Organizing 2.0
David Segal, Demand Progress
Evan Henshaw-Plath, Planetary.social
Nora Benavidez and Tim Karr, Free Press
Denise Duncan, Unfinishted Labs
Ara Nalbandian, Unfinished Labs
James Vasile, DSNP.org
Golda Velez. whatscookin
Daniel Buchner, Identity Hubs Editor
*Individual affiliations do not imply group endorsements.
Join Us!
Here are some potential topics from already registered attendees:
Annotation as a new paradigm for social media
The Tabloidization of Facebook
Maybe something about how marketing to niches can benefit indie efforts?
The power of asynchronicity
Digital Acquisition: Without FB, how can nonprofits reach more people at scale?
My company is building a platform Democratic campaigns and progressive nonprofits will be able to use to grow their opt-in email and SMS communities. It is intended in part to be an alternative to Facebook for one narrow purpose: Reaching and mobilizing potential supporters and donors. Obviously don't want to do anything that feels like a pitch for the company, but would be happy to preview what we're working on and brainstorm other alternatives to FB for progressive organizers and Democratic practitioners, if appropriate.
So many! How to get our users (and data) back? Specifically, if Facebook is now largely pay to play, what are the implications - how do we take back our audiences, incentivize them to come to our platforms?
Would like to dig in on transparency as a mechanism for accountability and supporting researchers like Laura Edelson.
Session on addressing the core issue facing us today: loneliness and lack of community.
I'd be interested in participating in a session talking about alternatives to Slack, and/or scaling up Slack networks.
Could Congress be remade as a Trust Engine?
I'd like to showcase our decentralized social network and community moderation protocol
Economic Models for Functional Separation (how to fund moderation VS how to fund hosting)
Decentralized social networks
Is FB compatible with a Just Economy?
What are the requirements for a Human-centered social media paradigm?
How can we create communication solutions that bring out the best in people online?
What antitrust can and can't do to stop Facebook
How to create FB replacements that are prosocial, decentralized, and that allow collective action for Good (not hijacked by bad actors). And how to achieve tipping point to the new models.
What is the fastest way to replace Facebook Groups with usable, non-manipulative, ad-free forums (ideally self-hosted/peer-to-peer), including handling spam, and get people all over the world feel happy to migrate rapidly?
human-friendly alternatives
Avoiding perceptions of political bias in tech
alternative to facebook
Best platforms for informing/organizing...what if wikis and hyperlocal daily news and a powerful CRM had a baby?
Who is pushing decentralized social media and why; how to keep decentralized social media from devolving into genocide
Verifiable identity through decentralized means
Issues of Free Speech with accountability; why we are suing Twitter; the progressive potential of behavioral targeting with accountability and restraints.
Facebook as alternative political media
What governance and social incentives are needed to help move toward more responsible digital ecosystem?
Decentralized Governance
Decentralized identity
Happy to talk about Hylo and the interoperability efforts of the Collaborative Technology Alliance
microevents, non-technical participants, community building
Micro-influencer campaigns as a replacement for FB Ads: is this something? (anotheracronym.org/influencer-toolkit)