About this Event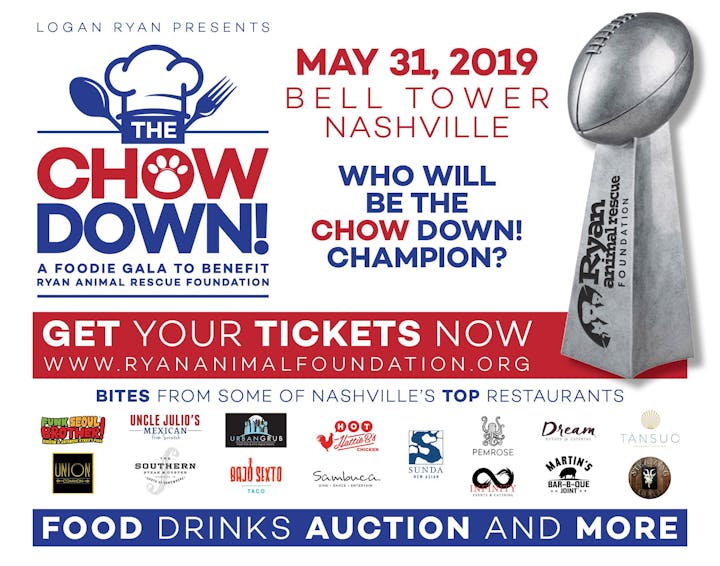 What is The Chow Down?
The Chow Down! is a brand-new community fundraiser hosted by Logan Ryan of the Tennessee Titans. This "foodie" event will host up to 15 appetizer-type stations featuring signature dishes from some of Nashville's top restaurants and catering companies.
The Chow Down! is helping to showcase the many diverse restaurants and catering companies throughout Tennessee; all proceeds will go to The Ryan Animal Rescue Foundation to continue our efforts in helping homeless animals.
How is this a competition?
Each appetizer station is judged by a panel of celebrities including Marcus Mariota, Kevin Byard and Ben Jones of the Tennessee Titans along with Cathy Bissell of Bissell Pet Foundation and dancer, actress and singer Mayte Garcia. The Chow Down Champion will take home the first ever "Dog-bardi Trophy," a custom replica of the NFL's Lombardi Trophy.
YOU ARE A JUDGE TOO! Each ticket holder will receive a voting paw print to choose their favorite dish of the night and will be awarded the nights "Crowd Pleaser".
Besides food, what else is happening?
The Chow Down! boasts a live and a silent auction packed with insanely cool stuff! Autographed sports memorabilia, sports tickets, once-in-a-lifetime experiences and so much more!
What do I wear to this fabulous event?
Attire is cocktail...be sure to wear something that leaves room for all the fabulous food you're going to taste!
How do I get tickets to this awesome fundraiser?
You buy them here! The Chow Down! offers two ticket levels...
A VIP Experience which includes a private lounge area overlooking the main event space. The VIP Lounge will host a bourbon tasting, exclusive food samples, and an opportunity to mingle with our celebrities. VIP tickets include open bar and all the festivities of the Main Event. - $200 ticket price
The Main Event brings incredible tastings from local restaurants, the exciting culinary competition, live & silent auctions, and entertainment. Main Event ticket holders are offered complimentary bar offerings. - $125 Ticket Price