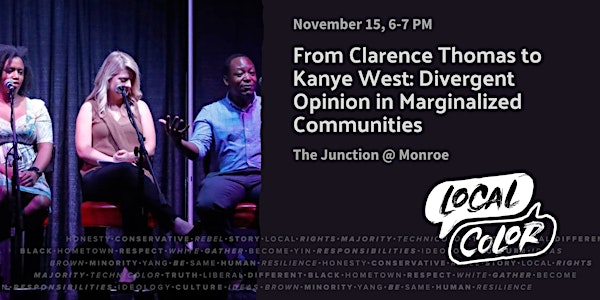 Local Color: From Clarence Thomas to Kanye West
Date and time
Thursday, November 15, 2018 · 6 - 7:30pm EST
Location
The Junction At Monroe 2011 South Monroe Street Tallahassee, FL 32301
Description
Local Color is a project of the Village Square.
"I'm not comfortable with comfort. I'm only comfortable when I'm in a place where I'm constantly learning and growing." -Kanye West (Rolling Stone interview)
Get ready to dive right back into Local Color with November's event: Should African Americans who challenge conventional wisdom automatically be considered 'Uncle Toms'? Or does viewpoint diversity undermine the solidarity of marginalized groups? For kicks, we'll play a quick round of the "Trading Races" card game where you have to argue that the card you drew represents the person with the higher level of blackness. Good for significant interracial discomfort. https://www.tradingracesgame.com/trading-rappers-videos.html
Snacks on us, drinks and full meals available for purchase.
Continue to dare to be uncomfortable (or super comfortable if the stage is your place to shine) and bust a move (maybe even to some Yeezus) with karaoke following at 7:00!
"The black people I knew came from different places and backgrounds - social, economic, even ethnic - yet the color of our skin was somehow supposed to make us identical in spite of our differences. I didn't buy it. Of course we had all experienced racism in one way or another, but that did not mean we had to think alike" ― Clarence Thomas, My Grandfather's Son
We are incredibly grateful to be able to present this with on-going support from: The John S. and James L. Knight Foundation through the Community Foundation of North Florida and the National Endowment for the Humanities through the Florida Humanities Council.
Learn more about Local Color here.
About the organizer
A nervy group of liberals and conservatives who believe that dialogue and disagreement make for a good conversation, a good country and a good time.