Description
In proper Greenbuild fashion, the USGBC MA community welcomes all who have traveled far and wide to connect with our local practitioner community. During this gathering, members of our community will get together to welcome and network with participants from all aspects of the green building industry. We will enjoy some updates about Greenbuild and some special remarks from our sponsors all with free food and the company of Boston's passionate green building practitioner community.
Proceeds support the 2017 Greenbuild Legacy Project. To find out more visit www.usgbcma.org/greengap

To donate and help support the 2017 Greenbuild Legacy Project, please visit www.paypal.com/fundraiser/charity/1481308
To learn more about USGBC MA and see other events, visit www.usgbcma.org
Special thanks to Elkus Manfredi Architects, Siemens, Reebok, Jamestown, the Steel Recycling Institute, Armstrong, Sam Adams, and Youthbuild Boston for supporting the event and Legacy Project. We cannot wait to get together with over 200 green building professionals before Greenbuild.
Members of the Greenbuild Honorary Host Committee are also included within this event. The Greenbuild Honorary Host Committee is meant to provide opportunities for local dignitaries, senior government, business, and community leaders to connect with other leaders about issues related to sustainability and the built environment.
Members include:
Marty Walsh - Mayor of the City of Boston
Mike Dukakis - Former Governor of the State of Massachusetts
Mariama White-Hammond- Minister for Ecological Justice at Bethel-AME Church

Mindy Lubber - President of Ceres

Kyle Corkum - CEO and Managing Partner of LStar Ventures and the Union Point project

Jack Robinson - Vice Chairman of Trillium Asset Management

Jim Tierney - Managing Director of JLL

Rob DeMartini - CEO of New Balance

Tom Ashbrook - Host of NPR's On Point

Kathy Abbott - President and CEO of Boston Harbor Now

Carol Gladstone - Commissioner at DCAMM

Matt Beaton - Secretary of Environmental Affairs
About the venue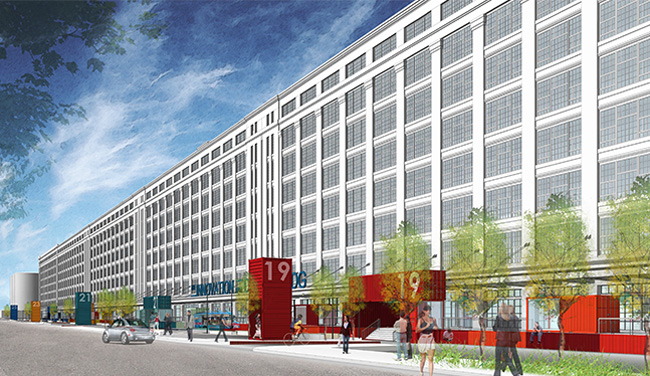 The event will be held at the Boston Design Center, a stunning venue in the eastern portion of the Seaport District on the waterfront. The Boston Design Center is poised to anchor the eastern portion of the Seaport District, attracting industries that are pioneering the innovation economy. Enhancements to the building include activation of the ground floor with the addition of food vendors, shipping container kiosks, and seating, and the creation of new event spaces and programming.
_____________________________________
Parking
A parking garage is available for your convenience. Located on 6th Street.
You may also find parking in the front parking lot of the Innovation and Design Center.
Public Transportation
The silver line is the most reliable service.
The walk is only 10 minutes from the Boston Expo and Convention Center (Greenbuild).