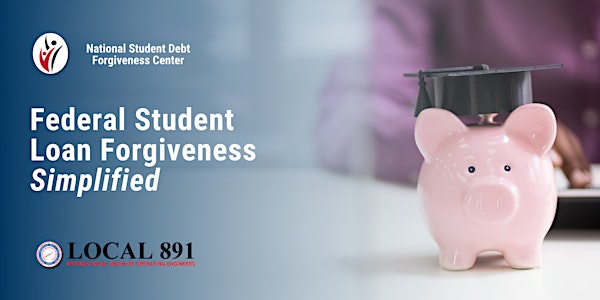 Local 891 / NSDFC - Federal Student Loan Forgiveness Programs Simplified
Local 891 wants to help you manage student loan debt with lower monthly payments and student loan forgiveness. Sign up now to learn more!
By National Student Debt Forgiveness Center
Date and time
Starts on Wednesday, April 6, 2022 · 9am PDT
About this event
Are you drowning in student debt? Feel like you'll have student loans for the rest of your life? Then join NSDFC in conjunction with Local 891 for an educational webinar on federal forgiveness programs such as Public Service Loan Forgiveness and learn how you may be eligible for shortened loan terms, reduced monthly payments, or even the tax-free elimination of your federal student loan debt!
About the organizer
National Student Debt Forgiveness Center (NSDFC) is a trusted industry leader that has helped thousands of borrowers reduce or eliminate their student loan debt. Our team of knowledgeable Student Loan Repayment Consultants are experts in navigating the various federal loan forgiveness programs designed to assist individuals with student loan relief and help get indebted borrowers on the path to financial freedom.

Interested in speaking with us further on how we can assist you or your organization with their student loan debt?  Contact us today. We are here to help!

Call: 888-384-0877 or 646-766-1330
Email: inquiries@NSDFCGroup.com
Visit: NSDFCgroup.com, or fill out an application.