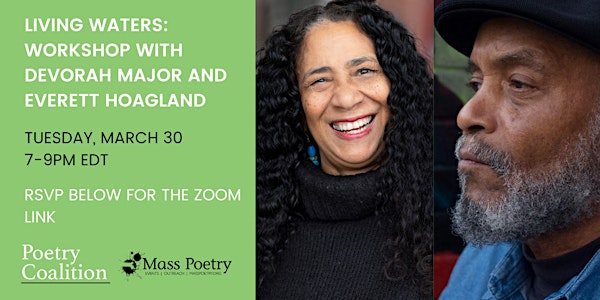 Living Waters: Workshop with devorah major and Everett Hoagland
Join Mass Poetry for our workshop series on Poetry and Environmental Justice!
About this event
This workshop will guide novice and experienced poets to investigate environmental justice through writing about the rivers, bays and oceans that we, as individuals and as a people, use and/or misuse. Everett Hoagland will share and discuss model poems on the waters and devorah major will provide a way to dive into these waters and emerge with a poem that speaks to the urgencies of today. You will be encouraged to consider not just the beauty and majesty of these waters but also the history that they hold and the ways they are changing. The workshop will include warm-up exercises and the opportunity to draft one or two poems. Participants will also have an opportunity to share their poems.
Born and raised in California, devorah major served as San Francisco's Third Poet Laureate (2002-2006). In 2019 she toured Southern Italy and Sardenia where her sixth book of poetry with open arms was released in a bilingual edition. Her seventh book of poetry Califia's Daughter, an Aquarius Books/ Willow Press Editors Choice was released in July of 2020. Winner of a PEN Oakland Josephine Miles Literary Excellence Award for her poetry book, street smarts, and a Black American Library Association first novelist award for An Open Weave, ms. major has taught poetry as a poet in residence in San Francisco's Fine Arts Museum and the Oakland Museum and currently teaches poetry at California College of the Arts and OLLI (Osher Long-Life Learning Institute) out of U.C. Berkeley. Ms. Major is featured on a number of CDs including Fierce//Love and The Tongue is a Drum as a part of Daughters of Yam, a poetry and jazz performance duo. In June 2015 major premiered her poetry play Classic Black: Voices of 19th Century African-Americans in San Francisco at the San Francisco International Arts Festival. devorah major performs her work nationally and internationally with and without musicians. She has been a participant in international poetry festivals in Italy, Belgium, Bosnia, Jamaica, and Venezuela, and performed her poetry in France, the Bahamas and Germany. http://www.devorahmajor.com
Purchase Where River Meets Ocean by devorah major.
Everett Hoagland is a UMass Dartmouth Emeritus Professor and was New Bedford's first Poet Laureate, 1994-1998. His poetry has been published in periodicals such as The Massachusetts Review, The American Poetry Review, The Crisis, Cross Cultural Poetics, The Progressive, The UUA World, The Providence Journal and The Boston Globe. Anthologies in which his poems appear include What Saves Us: Poetry of Empathy & Outrage In The Age of Trump, Ghost Fishing: An Eco Justice Poetry Anthology, Resisting Arrest, African American Literature (eds. Gilyard & Wardi), The Best American Poetry 2002, The Oxford Anthology of African American Poetry. Hoagland's most recent book is Ocean Voices (see 2019 3rd printing only). He has been awarded two Massachusetts Artists Foundation Fellowships and The 2015 Langston Hughes Society Award. He was born and raised in Philadelphia, PA, but has lived in New Bedford, MA since 1973.
About the Poetry Coalition: Mass Poetry is a member of a national alliance of organizations dedicated to promoting the value of poetry in our culture. Each year, we produce a series of programming that connects to a theme of the Coalition's choosing. 2021 is the year of Poetry and Environmental Justice, as it is more important and necessary than ever to consider the future of our planet. Join us in the month of March for a series of workshops where participants can create works of ecopoetry and engage in discussion on environmental justice. To learn more, visit our website.