About this Event
Have you done everything you can
to maximize your Q4 results and prepare for 2021?
Now is not the time to hunker down and just survive; the business model that you started this crisis with may not be the one that has you emerging stronger on the other side.
Now is the time to be ambitious,
to innovate and to take action.
____________________________________________________________________________________
We won't just teach you the tools and then turn you loose.
You'll also get expert coaching in small breakout sessions, so you can feel confident you've nailed it and have a plan. Plus; you'll be able to share ideas with an elite group of CEOs & Leaders.
Then, after the workshop a Certified Coach will help you bulletproof your plan. Take control of your destiny. We'll help. Then, charge ahead through the rest of this crazy year with confidence and clarity. You've got this.
10X Guarantee: Either You Get Plans to 10X Your Investment in The Workshop, Or Your Money Back.

If you are a CEO, entrepreneur or member of a leadership team, this workshop is for you. You will take away actionable insights to address the #1 challenges you are facing and build a plan to win the rest of Q4 and 2020. Bring your team for maximum results and R.O.I !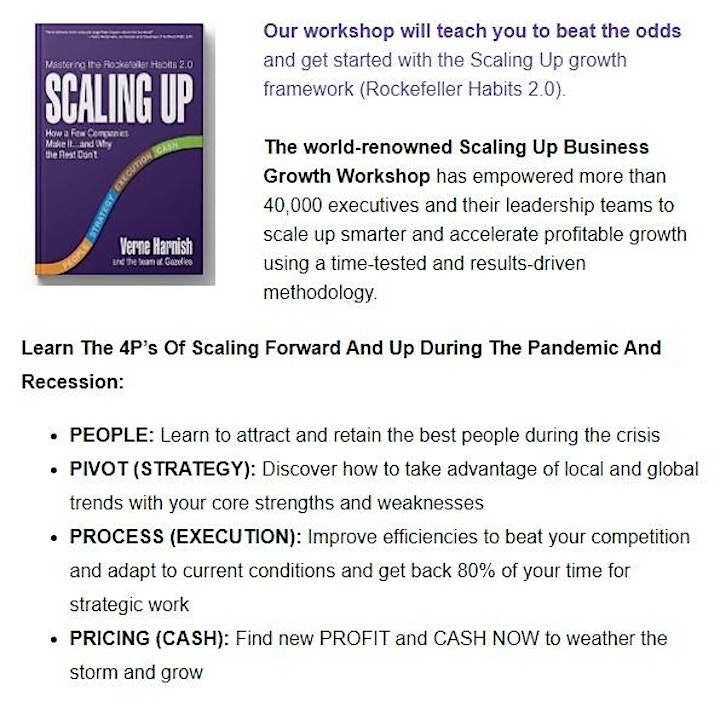 "I love that Lisa & Corwin both have hands-on experience leading businesses; their real-world examples were hugely helpful. We covered a lot of material and they provided resources to learn more about each topic. Every growing business needs this workshop!" George R., CEO, Technology business
"My leadership team was able to not only gain clarity on our vision but we found two small changes that will put an additional $315,000 to our bottom line in the next twelve months and they will be implemented in under 2 weeks!     Jason Spahr, CEO, TruLite
"They did a great job communicating while keeping everyone engaged on the team" C. Funk, Cool Touch
"10! Loved doing this with my team- helpful to get us all on the same page." S. Conte, Frances 
LOGISTICS
Workshop hours: 9:00 am to 12:30PM
Post Workshop: 1 Hour Private Coaching Session with a Scaling Up Coach & Your Team