Event Information
Refund Policy
Contact the organizer to request a refund.
Eventbrite's fee is nonrefundable.
Live Virtual Screening: THIS MIGHT HURT + interactive Q&A w Dr. Schubiner and Dr. Hanscom and the filmmakers
About this Event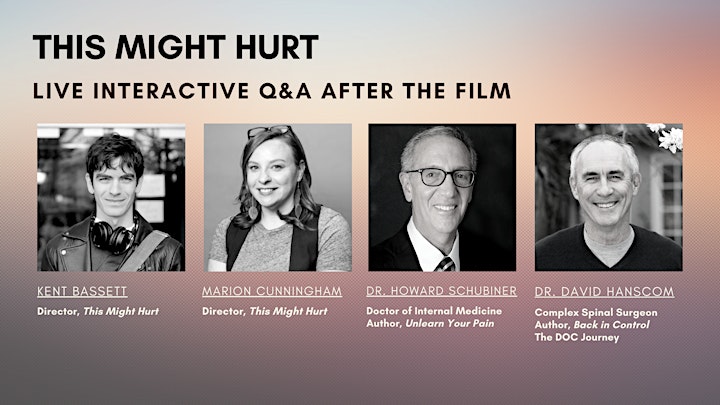 Live Virtual Screening in Association with SOLVING CHRONIC PAIN SUMMIT: A NEW PATHWAY TO RELIEF at the Open Center.
This screening and discussion will be geared towards clinicians in the field of chronic pain, but all are welcome!
Buy a ticket to the screening and Q&A and a protected link will be emailed to you. This Might Hurt is an official selection of the Austin Film Festival. This screening will be the digital premiere.
We will start promptly at 7 pm Eastern, followed by a 20 minute live Q&A with Dr. Schubiner and Dr. Hanscom, where the audience may contribute questions. You will not be able to pause or rewind. If you join late, you will miss the program.
This Might Hurt is a documentary that offers solutions to cure chronic pain. Three people enter a new treatment program run by Dr. Howard Schubiner that focuses on uncovering hidden causes of chronic pain, and retraining their brains to switch the pain off. Over several years, through ups and downs, each of them makes astonishing discoveries about the nature of their pain.
While only a handful of doctors are aware of the paradigm shown in this film, it's quickly gaining recognition. Known as "EAET," the treatment was featured on NPR, shown to be effective in a large randomized controlled trial, and recognized as a "pain management best practice" by the NIH's task force to combat the opioid epidemic. This Might Hurt provides an in-depth exploration through the experiences of people seeking relief, and depicts a path to healing for millions.
**Para los que hablan español, podemos poner a su disposición una versión de la película en español, pero debe enviarnos un correo electrónico para obtener un enlace especial. Envíenos un correo electrónico a tmhfilm@gmail.com.
***
EVENT SCHEDULE
6:30 pm Eastern (3:30 pm Pacific) — Doors Open, use this time to plug your computer into a monitor/TV, set up speakers, get your popcorn, prepare devices to be silent for 2 hours, get ready for a collective movie-watching experience without distractions.
The show will start promptly at 7pm and you cannot pause or rewind—so come 15-30 minutes early, and make everything's set up right so you can relax during the movie. If you arrive late, you will miss the program.
7:00 pm Eastern (4:00 pm Pacific) — Show begins, after the screening there will be a few minutes to get some water and use the restroom before the Q&A begins.
8:40 pm Eastern (5:40 pm Pacific) — Live Q&A with Dr. Schubiner, Dr. Hanscom, Directors Kent Bassett and Marion Cunningham | This will be an interactive session where you can submit and up-vote questions through the chatbox.
***
FAQs
What is Ovee?
OVEE is a platform for live virtual screenings. It combines quality HD streaming of movies with interactive chat features in a single-screen experience. This allows viewers to chat and comment in real time while watching the film, and stay tuned for interactive Q&As — all on the same webpage.
Note: OVEE works in the following browsers:
Chrome, Firefox, Safari on OS X 10.10 or higher, Edge
How will I access the screening?
The screening will occur on the OVEE website. Once you register we will automatically send you a private link to access the streaming. This link will be sent a couple of days prior to the event.
What device can I use to watch the livestream?
A computer or large screen device that you use to watch movies is ideal. You can connect your computer to a monitor/TV using an HDMI cable. As long as your device is able to stream video from the internet through a browswer you are all set. A tablet or phone that can stream video will also work.
We highly recommend making sure you connect your device to speakers or headphones, so you can enjoy the beautiful music by Jonathan Kirkscey, and enjoy an immersive experience.
When the screening starts, please close all other browser tabs and disable notifications on your devices, so you can have an immersive experience.
How do I know if I am in the right place for the screening?
Using the link we will provide to you via email prior to the event you will land in a virtual waiting room and once the screening is opened you will automatically begin seeing the video content that is playing there.
After you follow the link for the screening you are all set, no further action is needed. (If a red Play > icon shows up on the image, click the icon to play.) The movie and the Q&A will happen on this same Ovee page.
It's hard to watch a movie straight through these days, especially with all the craziness going on. Any tips?
It's difficult, but worth it! We all need a break. Remember to activate "DO NOT DISTURB" or otherwise disable all notifications on your phone, tablet, and computer. Close or hide all other browser tabs.
Also, our loved ones aren't used to us being offline during quarantine. If disappearing for two hours would be upsetting, text them beforehand to say you'll be unavailable. It's possible to watch a movie with devoted attention by planning for it.
What's the refund policy?
We do not offer refunds, and the Eventbrite fee cannot be refunded. That said, if you are unable to access the screening, email us and we'll try to accommodate.
Why do I have to enter my birthday on the OVEE streaming platform?
This is to ensure that you are over 18 years old.
Is there any geo-blocking for this event?
No, we've made this event accessible across the world—all you need is broadband internet.
Will there be Closed Captioning in English?
Yes. In the bottom right corner of the screen, you can toggle it on and off where it says "CC."
Will there be foreign language subtitles?
Ovee cannot pipe in subtitles, but we came up with a workaround for Spanish speakers.
**Para los que hablan español, podemos poner a su disposición una versión de la película en español, pero debe enviarnos un correo electrónico para obtener un enlace especial. Envíenos un correo electrónico a tmhfilm@gmail.com.
Is this going to be an exciting event?
Yes, guaranteed.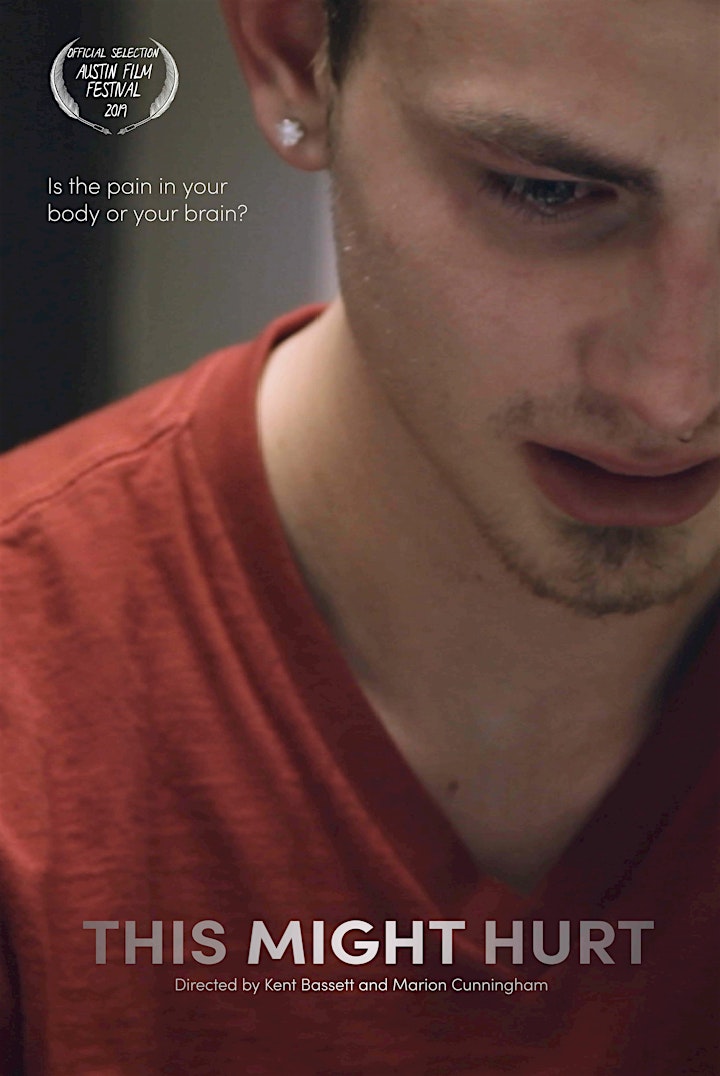 Date and Time
Location
Refund Policy
Contact the organizer to request a refund.
Eventbrite's fee is nonrefundable.